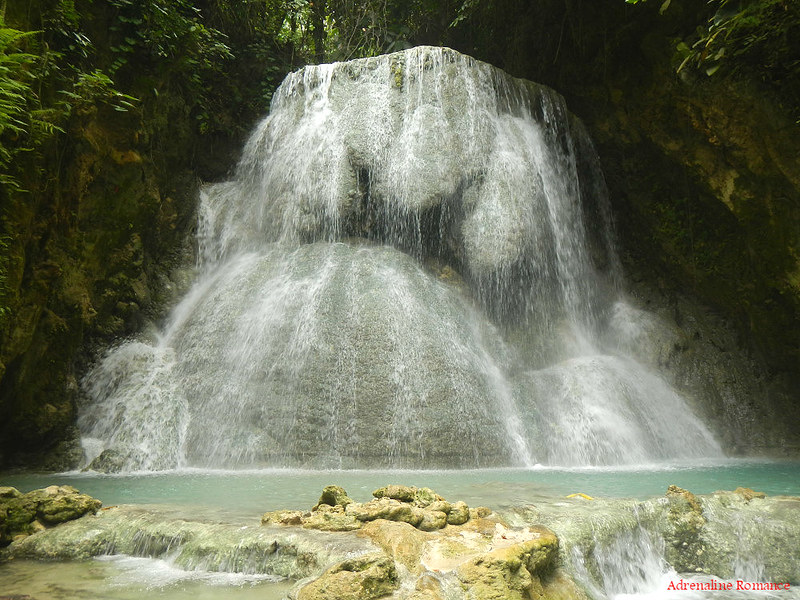 Cebu's lovely waterfalls may not be as immense, tall, or imposing as those in other parts of the country. But that does not mean that they are less mystical. Indeed, our humble island's waterfalls all feature a plethora of mysterious rock formations, amazing water compositions, and magical surrounding environments. Aguinid Falls in the quiet municipality of Samboan, which is 150 kilometers away from Cebu City, is one of these natural wonders.
Aguinid Falls is unique because it is not a single waterfall. Rather it is a system of waterfalls that runs for a couple of kilometers along Tangbo River. Since it was promoted as an eco-tourism destination, locals and foreigners have witnessed this one-of-a-kind, multi-tiered waterfall system.
We had the chance to visit Aguinid Falls when FUNtastic Philippines—a nature, tourism, and heritage photography group of which we are a part of—invited us to take part of their Cebu South Photo Tour. After meeting the rest of the FUNtastic Philippines members at the Cebu City Hall and a brief pre-dawn stopover in Carcar, we arrived at the town of Moalboal, a South Cebu paradise renowned for its magnificent dive sites.
We took a simple but hot and filling breakfast before proceeding to Samboan, which was still more than an hour from Moalboal.
The highway to Samboan runs directly along the west coast of Cebu island. We stopped at several points to admire the view. For members of FUNtastic Philippines who are mostly composed of professional photographers, this was a great opportunity to take magnificent nature and landscape photos.
No group travel is ever complete without the mandatory group photos, fun shots, modeling poses, and wacky images.
Being on the road since 3:30 in the morning can surely make anyone's butt throb. Thankfully, at around 8AM, we finally arrived at Barangay Tangbo where our destination, Aguinid Falls, awaits us.
While our van drivers looked for a place to park, Sweetie and I decided to disembark and take a few photos of the area. This dirt road leads to the Registration Area and Public Assistance Center.
Along the way, we found snippets of peaceful rural life such as this group of young men having an early morning tagay (drinking) session and singing their hearts out.
Cockfighting is a national pastime in the Philippines. Fighting roosters are bred, taken care of, and fed nutritious food and high-quality vitamins. Those triangular structures are shelters for the roosters.
Once their owners determine they're ready, the birds are then sent into a sabongan so they could duel with other roosters to death. Bets ranging from hundreds and thousands to millions of pesos are lost or won in cockfighting.
Aguinid Falls is fast becoming an eco-tourism attraction in Samboan. Thus, it is not surprising that micro-businesses and small enterprises such as souvenir shops, sari-sari stores, and carenderias are sprouting in the area. Don't forget to buy their budbud (sticky cassava wrapped in palm leaves); they're one of a kind!
For those who need to answer the call of nature, worry not because there is a clean restroom where they can do their personal stuff.
To avoid contaminating the Tangbo River, eating and drinking in the waterfalls is not allowed. Guests who wish to grab a bite may take their food in designated picnic areas far from the river.
Before proceeding to the river, visitors have to register and pay the entrance fee. The fee is used for the maintenance of the area.
Visitors may also acquire a guide here. Now, here's an important thing to note. Guideship service in Aguinid Falls is purely voluntary; as a result, they don't have fixed rates. We even heard some horror stories of guides not being paid! So, be kindhearted and pay your guide the amount he or she deserves.
After changing to our rash guards and putting our stuff in our dry bag, we were ready to start this cool and relaxing river adventure. Trails were carved into the riverbanks to make it easy for non-adventurous visitors to enjoy Aguinid Waterfalls.
Sir Ruel, a small group of mountaineers, and I first visited Aguinid Falls in 2012. When we came here, this place was really wild, covered with thick vegetation, and characterized by slippery mud banks.
After a slight decline, we arrived at the foot of Tangbo river. Even though we were still at the start of our adventure, we already marveled at the beauty of the place. Just check out that clear, cool water. Don't you just want to jump in?
The LGU has taken very good care of this natural treasure as first-generation forest trees were still plentiful.
That's the downstream side of the river, which eventually flows to the sea. We are not sure if there are waterfalls or other geological wonders beyond that point.
A little farther from the jump-off point, we arrived at this beautiful waterfall. Just imagine how many millions of years Mother Nature carved this convoluted slide.
Don't you just want to take off your shoes and immerse your feet here? Or lie down and just let the fresh water flow all over your body to cool you off from the tropical heat?
Along the trail, visitors can see plastic-laminated signs like these. Please take heed; they are for your safety. Remember that in outdoor environments, you can't win against Mother Nature. Being complacent in the wild has no room in adventuring.
The signs are also there to remind you to protect the river for future generations. Don't throw trash, and bring your garbage with you.
In some places, specifically on the way to the first waterfall, rocks and sacks filled with sand are laid across the waterway. These structures fulfill two purposes. One, they serve as bridges so hikers can cross to the other bank. Second, it regulates the flow of water, creating a series of shallow, flowing pools for children and non-swimmers.
Directional signs like these are placed in various places along the trail. They also display generic but interesting information about the waterfalls.
Bamboo benches where trekkers can take a rest are placed at several points.
This strong and aesthetic bamboo bridge allows people to safely cross a gap in the riverbank. Notice how the bridge perfectly compliments the view of the riverscape.
After about 20 minutes of walking and taking photos, we came to the first tier, simply called Level 1 Waterfall. Just check out how lovely that waterfall is! Below is a relatively deep pool that is safe for swimmers to dive and play around. The size of the person standing on the lip gives you an idea on the size of Level 1 Waterfall.
To get to the higher waterfalls, we needed to walk up that slippery, ramp-like rock on the right.
On top of the first waterfall, we followed a shallow river that is bordered by tall, forest-covered unclimbable cliffs. Sans the sounds of human chatter and laughter, the rushing waters and the chirping birds all sing to a relaxing, enchanting melody of Mother Nature.
Rounding the bend, we came across the massive Level 2 waterfall, which is almost 100 feet high, we reckon. Cool and refreshing water flows down like a fast-creeping carpet.
When we first visited Aguinid Waterfalls in 2012, this was as far as we—and most people—can go. Without the right equipment and necessary skill, climbing the Level 2 waterfall is extremely risky. Adventurers have to contend with the strong and consistent force of flowing water and slippery rock. One slip could send someone careening into the shallow, stone-bed pool below the waterfall, which could cause serious injuries.
Presently, locals painstakingly hacked small makeshift handholds and footholds on the rock face to make the ascent and descent easier. For us, these artificial modifications are unsightly and damaging; anchoring a fixed line on top of the waterfall would be better. However, we also understand the LGU's decision on these modifications; it would have been dangerous and taxing for non-adventurers to ascend the waterfall with a fixed line.
Reaching the top of the Level 2 waterfall, we found these lovely cascades that seem to form natural steps to farther waterfalls. All we needed to do was to follow the river upstream.
At this point, man-made structures and modifications are almost non-existent save for directional and information signs.
Here's a tributary that leads to another part of the jungle. Local guides tell us that this tributary circles back to the 5th and highest waterfall.
The water has a very slight greenish color and is noticeably warmer than other rivers we've swam or waded in. That's because Tangbo River's water is very rich in calcium and is alkaline in nature.
Since we were way ahead of our group, we arrived at the small but nevertheless remarkable Level 3 Waterfall first. It has a tiny, rocky cavern where one can tuck in to see a blurred world behind a curtain of water.
As we mentioned before, the river sits in the middle an unclimbable canyon. Why unclimbable? Well, most of the canyon is made of soft, moisture-saturated soil. In fact, in many parts of the canyon, the roots of the trees break through.
Level 3 Waterfall seemed to be a dead end. However, there is a small channel beside it that leads to the upper falls.
And to proceed, you need to climb it! Don't worry though. Locals have hacked small, inconspicuous hand holds that allow you to ascend the waterfall easily.
That's the view from the top of the third waterfall. The edge where the guys are standing on is actually the lip of the waterfall.
Here's a type of wild fungus/mushroom we found along the canyon. Calcium deposits from the water spray are embedded underneath the organism.
We silently scrambled amidst the rushing water, withholding any conversation and enjoying the music and the touch of Mother Nature.
Can you imagine how skillful her hands are in carving this natural wonder?
Unlike the other lower tiers, Level 4 Waterfall was comparatively unremarkable; in fact, we didn't know it was part of Aguinid's tiers until we saw the sign that it was the Level 4 waterfall.
It has a nice pool where people can swim or soak around. Talk about Mother Nature's very own jacuzzi!
This section was destroyed by a landslide a few months ago. That is how soft the soil is. Water saturation, probably from heavy rains, was determined to be the cause of this landslide.
We waded through more of the cascades, enjoying the feeling of the water's rush around our legs. Remember that these are all natural steps.
Suddenly, it was there in all its glory, right in front of us. That's the imposing Level 5 Waterfall of the series of Aguind falls. Just check out that stunning rock formation. We wouldn't be surprised if we could see a beautiful enkanto (nymph or fairy) frolicking in the waters here. The place truly exudes magic!
The greenish pool below the waterfall is only waist deep at its deepest. Needless to say, diving is not allowed.
Together with a friendly female local who happened to be there, I climbed the waterfall to give you an idea of its size. It was a fairly easy climb since the rocks were, surprisingly, not that slippery.
The cavern where I'm in has many interesting rock formations.
Soon, more people arrived at the Level 5 Waterfalls; it was time for them to enjoy the sights and sounds in this area. We went back the same way we came in.
Going down the Level 2 Waterfall was pretty tricky. We couldn't see the handholds and footholds due to the foam. We had to feel around for the holds with our hands and feet. Indeed, descending, not ascending, was the most challenging part of the adventure.
From the bottom of the waterfall, it was then an easy wade and trek back to the registration area.
Samboan's Aguinid Falls is truly a wonder of nature and a great venue for a respite from the summer heat, city stress, and life's problems. Mother Nature has several ways of healing, and one of them is enjoying the feeling of cool, clear, rushing water around you. And we are quite lucky to have that balm in our own mainland.
We would like to give special thanks to FUNtastic Philippines for inviting us. You, guys, are awesome photographers. Keep those photos coming, and promote the immense beauty of our country. You can check out their stunning photos in the FUNtastic Philippines Facebook page.
Estimated Budget*
P 175 – bus fare (non-air-conditioned) from Cebu South Bus Terminal to Samboan (same rate applies on the return trip)
P 20** – entrance fee for Filipinos
P 40** – entrance fee for foreigners
P 50 – garbage bond if you decide to bring something that is considered potential garbage (e.g. bottled water, snack packets, etc.). Your deposit is returned to you after showing the custodian the garbage you brought back.
* We did not include our expenses for meals, snacks, souvenirs, tips, and other fees in this rate sheet as you may have different needs, preferences, itineraries, and sharing scheme from us. Note that all figures are subject to change without prior notice.
** According to the tarpaulin signage at the entrance, the difference in rate is "not a form of discrimination but an exercise of valid classification based on citizenship." Personally, we find this justification bewildering.
Tips
1. For the LGU's rules and regulations, please check the photo below:
2. Please follow these safety rules:
3. For a map of Aguinid Falls, please check the photo below:
4. Except for water, trail snacks, or energy bars, do not bring drinks or meals during your river adventure. There are designated places and stores at the staging area outside the river where you can enjoy your meals. There are plenty of eateries in the area, so you don't need to worry if you didn't bring any food.
5. For those with private vehicles, know that parking fees vary because the parking lots are actually yards, lawns, and clearings owned by residents. Be prepared to pay at least P25 for four-wheel vehicles and P10 for motorcycles.
6. Watch your step as you wade and trek on the river or climb up waterfalls. In many places, the rocks are slippery. Don't hesitate to crawl or grab on to handholds. If possible, bring a trekking pole so you can probe pools, cracks, crevices, etc.
7. Prepare to get wet! No amount of maneuvering will let you escape the water. But that is definitely part of having fun.
8. For safety, we advise you hire a guide if you plan to climb and explore the river beyond the Level 2 Falls. During our visit, local guideship services there were purely voluntary. We are not sure if they have implemented fees. If they haven't, please have the heart to give your guide a fee. P100 per person for a group of five or more is a good benchmark.
9. Don't forget to bring the following:
water (at least one liter)
trekking sandals or aqua shoes
rash guard
sunblock
trail snack
extra clothes
extra money for emergencies
10. Be sure to waterproof your things. Place them inside dry bags or dry sacks.
11. Respect Mother Nature by not littering the area and vandalizing the rocks. Keep voices down and avoid unruly behavior.