Where can you find a place that lets you bask in luxury, pampers you in comfort, rejuvenates your soul, and offers you rockin' adventures? That's in Bluewater Panglao Beach Resort in Panglao, Bohol, one of the best beach and scuba diving destinations in the country. The resort boasts of authentic Filipino architecture, which perfectly reflects Bohol's culture, warm hospitality, and eco-focused initiatives.
Thus, when Bluewater Resorts' Marketing Manager Eric Monsanto and New Media Officer Clarissa Vasquez invited us for a 3-day, 2-night weekend stay in the resort, we readily grabbed the chance. And oh boy, what a weekend it was!
After arriving at the Port of Tagbilaran, we were whisked away by our driver, a smiling fellow named Kent, to the resort. It was love at first sight when we saw Bluewater Panglao Beach Resort as we disembarked from the van. Lush gardens, buildings that embody the best in Filipino architecture, fresh air, birds chirping nearby—it was the perfect definition of paradise! The resort's design is traditional, elegant, and innovative. Yet, it is also environment—organic and functional.
The front desk staff handed us fragrant cold towels so we could wipe our face and hands after our sea journey. Sensing that we were a little thirsty, they served us their signature drink—cold, healthy, and pleasant lemongrass tea. This was getting better every minute!
After checking in and meeting the resort's Marketing Associate Ivy, a resort staff led us to our room.
Guest Rooms
Most of Bluewater Panglao Beach Resort's guests are booked in Premium Deluxe Rooms. For our sojourn, we stayed in one such room, and we were totally impressed. Tribal accessories that give homage to the patterned textiles in Ifugao adorn the simple yet elegant cantilevered beds. A rattan rug, a rattan couch, a customized lamp with a wooden base, and other wooden accents keep the room faithful to its Filipino theme. Each Premium Deluxe Room is equipped with a mini bar, telephone, and cable TV. Finally, a clear sliding door allows natural light to come in while guests can see great outside views from inside their rooms.
Guests can choose between rooms with twin queen-sized beds or one king-sized bed.
Each room has its own tub and shower, featuring Filipino and organic accents. The most interesting thing about the T&B is that it has a translucent skylight, which allows natural light to filter in.
Swimming Pools
All Premium Deluxe Rooms and Family Lofts face the resort's main swimming pool! That's the view of the pool from our room. Pretty, isn't it?
The main pool is only 4-feet in depth, which means that it is quite safe for children and non-swimmers. Lounges are aplenty, and a bridge allows easy access across the pool.
Guests who want a more scenic pool can head to the beachfront. The swimming pool there offers a lovely vista of the resort's beach and the tranquil sea beyond. The tall bamboo provides swimmers a lot of shade from the tropical sun. Frolicking in this pool makes it seem that guests are in the middle of a lush forest grove.
There's a shallow children's pool just right beside the main pool so toddlers can enjoy the water safely.
Amuma Spa
Just in front of the pool and surrounded by a verdant garden is a wood-and-nipa hut where guests can enjoy a relaxing massage. The Amuma Spa offers several signature therapies that will make guests feel totally relaxed and pampered.
A similar hut is located near the beachfront.
Baroto Poolside Bar
For fishermen stranded at sea, the baroto (locally designed outrigger boat) is a welcome sight. It means they will finally be rescued and be given a drink after a long bout of thirst and dehydration. Here in Bluewater Panglao, the Baroto Poolside Bar, rescues guests from their need for relaxation and a cool, pleasant drink while frolicking in the main pool.
Open from 8AM to 10PM, the bar offers alcoholic and non-alcoholic beverages, cocktails, and some light snacks.
Children's Playground
Bluewater Panglao Beach Resort makes sure that children and toddlers won't be left in the fun. While their parents are enjoying the resort elsewhere, the young ones can play all they can in the open-air playground. They have slides, swings, climbing walls, and more on a sand-filled clearing. Adults can, of course, share the fun.
There is another playground, complete with a sandbox, at the beach area.
Obstacle Course
Then there's a playground for adults as well! The resort's obstacle course is a fun way to get fit, have fun, compete with others, and push one self to their physical and mental limits. Having an obstacle race here is an ideal team-building activity.
Library and Mini-Game Bar
We wouldn't be surprised if bibliophiles will stay all day in this little nook just right behind the reception area. The open-air library has a nice collection of novels, journals, diaries, and references to keep book lovers entertained. Guests who want to experience some fun in a quiet, less-active way can do so by playing chess, sunka (a traditional mancala game), and some other simple board games.
A computer in the library allows guests to check their social media accounts, read the news, send emails, and more anytime.
Garden Villas
For the ultimate in luxury and privacy, guests can book in their Garden Villas. Each of the four villas faces the resort's immense garden. Just imagine waking up each day in Eden. That's how staying in any of these villas must feel.
Bluewater Panglao has two kinds of villas: a two-bedroom Family Villa (good for families and groups) and three one-bedroom Honeymoon Villas (perfect for newlyweds and couples who want a luxurious romantic holiday)
Since all of the Honeymoon Villas were occupied, we checked out the Family Villa, which is the biggest and most upscale type of accommodation in the resort. But the high price is totally worth it.
Each villa has a private bubbling dipping pool where guests can relax and chat while enjoying their favorite drinks. A terrace with sunbathing lounges and a breakfast table provides further space for dining and recreation.
Don't you just want to have your breakfast, lunch, dinner, or merienda here? Simple things such as having a meal, reading a book, or enjoying an online chat with friends would be extra special here.
All villas feature a comfortable, cantilevered king-sized beds that offer outside views through a transparent sliding window. The two-bedroom villa has another bedroom that has two queen-sized beds for children and extra guests.
Furthermore, each unit is equipped with a mini bar, cable TV, shower and bathtub, a private terrace, and an Illy Espresso machine.
Each villa has a small living room where guests can watch TV, entertain friends, dine on sumptuous dishes, work on their business, and more—anything they don't want to do on their bed.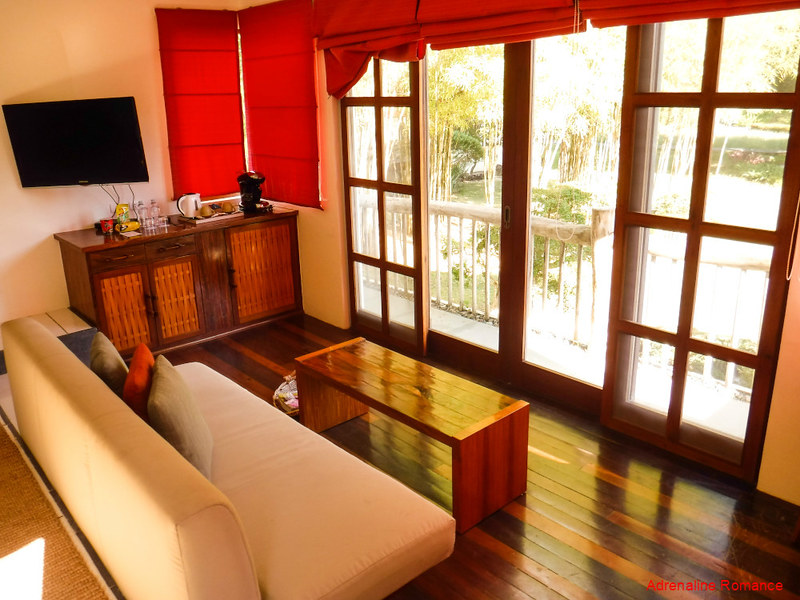 Golf Cart
With a myriad of facilities and natural spaces, Bluewater Panglao is quite an expansive resort. Guests can certainly walk around to enjoy the resort. But for those who are in a hurry, tired, or physically challenged, there's an electric-powered golf cart that can get them around. The cart continuously goes around the resort's roadways; guests simply have to wait for it to arrive in front of them.
Garden
On the way to the beach, guests pass by the resort's expansive garden. Covering almost 60 percent of the resort, this is one place where people can experience true tranquility. Carefully trimmed bushes and grass form an immense green carpet, occasionally interrupted by gravel pathways. Colorful local blossoms break up the monotony of green. Beneath the shade of lofty trees are sandy patches where one can rest, read a book, sip hot tea or coffee, and enjoy the serenity that the resort offers.
Lagoon and Waterfalls
Water features add life to just about everything! The resort has a flowing waterfall that is wonderful, natural music to our ears. The water flows to a zen-like lagoon that is filled with fish. Two small bridges span over the lagoon so people can cross the water feature without getting their feet wet.
Multi-function Hall
Across the garden is an open-air multi-function hall made of wood, bamboo, and other traditional materials. Surrounded by trees and tall bamboo grooves, it is a perfect setting for weddings, birthday parties, and other special events. The hall is fully equipped with lighting, sound system, and more.
The hall also functions as an alternative restaurant in case the bigger Aplaya Restaurant is reserved for a big event or if it is closed for maintenance.
Aplaya Restaurant and Bar
At the northern end of the resort is the Aplaya Restaurant. Without walls, diners have an uninterrupted view of the white-sand beach and sparkling blue waters of Bohol Strait. Fresh sea breeze circulates freely in the wood-and-nipa facility, making dining a totally pleasant experience. Aplaya Restaurant offers authentic and international cuisine sprinkled with a contemporary twist of Filipino-Asian fusion from 6AM to 10PM.
Dishes are made with fresh local ingredients, ensuring a palate-tingling experience.
If the Aplaya Restaurant is too small for a large group, the beachfront can be utilized as a dining or event area. When we visited the resort, there was a wedding reception that comprised around 175 to 200 guests.
Mamsa Meeting Rooms
Below the Aplaya Restaurant is the Mamsa Meeting Room where companies, groups, and organizations can hold seminars, conferences, workshops, and more. The room is equipped with tables, chairs, screens, sound system—everything that is required for a successful meeting.
GoDeep Philippines Dive Center
Panglao Island is renowned worldwide for its spectacular dive sites, attracting scuba divers all over the globe. Bluewater Panglao commissioned GoDeep Philippines to take guests who want to go scuba diving to Panglao's majestic alien underwater kingdom where everything is not what it seems.
Divers normally jump off at Alona Beach, so a multi-cab from GoDeep Philippines fetches guests at the resort at their preferred dive schedule.
Beach
At the northern end of Bluewater Panglao is its white-sand beach. While not as big as its Sumilon and Mactan counterparts, it's a perfect place to bask in the sun, commune with the sea, and refill the lungs with fresh sea breeze. Guests can paddle a kayak, play volleyball with friends, have fun with a stand-up paddle board, and more.
Bluewater Panglao has successfully established a beautiful escape that truly honors Bohol's natural beauty. It is a place that is perfect for a much-needed stress-relieving sojourn, a relaxing weekend getaway, a romantic honeymoon, and many more. Guests truly feel the warmth and love of the Filipino as they are taken care of by smiling staff. Yes, it is the place to be this summer.
But you don't have to stay in your room or in the pool all day. Bluewater Panglao Beach Resort offers an impressive plethora of activities that offer either a dose of adrenaline-pumping activities or a dose of pleasant relaxation. Stay tuned!
Contact Details
For more information or to book with Bluewater Panglao Beach Resort, use the following contact details:
Website: www.bluewater.com.ph
Street/Mailing Address: Bluewater Panglao Beach Resort, Danao, Panglao Island, Bohol, Philippines 6340
Phone: (6338) 416-0695 or 416-0696
Fax: (6338) 416-0697
Email: panglao@bluewater.com.ph
Amuma Spa email: amumaspa@bluewater.com.ph
Facebook Page: Bluewater Panglao Beach Resort
Manila Sales Office
Street/Mailing Address: Rm. 704 Cityland Herrera Tower, Rufino cor. Valero Sts., Salcedo Village, Makati City, Philippines
Phone: (632) 817-5751 or 887-1348
Fax: (632) 893-5391
Email: rsvn03.manila@bluewater.com.ph
GoDeep Philippines Dive Center
Save
Save
Save
Save