Sweethearts who go adventuring together stay together even in the midst of real and metaphorical storms. In our case, we encountered the former.
The climb to Mt. Napulak last July 27 to 30, 2012 was the first time that sweetie and I adventured together outside the Cebu island.  Cebu mountaineers, Sir Ruel, Sir Ronald, Nicolo and Botchok; sweetie's officemates, Nina and Pam; and the two adventuring sweethearts joined a contingent of mountaineers from Bacolod, Iloilo's Higher Ground Mountaineers, and Manila to summit the mountain.
Located in the municipality of Igbaras and around 35 kilometers from the city proper, Mt. Napulak is Iloilo's highest mountain at 1,200 MASL. Mountaineers colloquially call it the "Nipple Mountain" due to fact that when viewed from afar, the mountain looks like a woman's breast. The "nipple," in fact, is a huge coral stone outcropping that forms the summit of the mountain. Reaching this "nipple" can be done within 5 to 7 hours of steep but easy trekking.
Well, that's in theory. In reality, the climb became harder than we thought. That was because we were climbing a mountain in a stormy weather, with sporadic heavy rain and heavy gusts of winds. Little did we know that we were at the edge of Typhoon Saola (Tropical Storm Gener) when we made the summit attempt. Although signal number 1 wasn't raised in the Visayas, the open nature of the mountain shielded no one from the storm's ferocity. Up there, it was as if we were in the middle of Typhoon Saola!
Well, that's okay though. We, lovebirds, ended up helping, encouraging, and hugging each other in the cold winds. Even in the middle of a storm on top of a mountain, romance still bloomed.
A month before the climb, Ma'am Yammay and her boyfriend met us at CNT Cebu (thanks for the free meal!) to join our pre-climb meeting. It was a good thing that she came; we had first-hand info on Mt. Napulak because she's from Iloilo and a member of the Higher Ground Mountaineers, the caretakers of Mt. Napulak.
We started the climb with a long nighttime journey on board a Trans Asia ferry. We already had a bad omen because in Cebu, the day drizzled with sporadic rain. What the hell, we already paid for the tickets and no way will we back out of this one.
Someone wanted to become a midnight paparazzi.
After more than 12 hours on the ship, we safely crossed the Siete Pecados islets, which guard the entrance to Iloilo.
Half an hour past the Siete Pecados, the ship prepared to dock at the Iloilo port.
Group photo before disembarking from the ship.
After meeting our contact, Ma'am Yammay, we proceeded to an eatery that serves Iloilo's specialty . . . batchoy! The batchoy tasted great although it was a bit on the salty, oily side.
After eating a hearty breakfast of batchoy, we headed to the terminal where the Igbaras jeeps were stationed and where we will meet the rest of the group. That's our jeep. Iloilo's jeeps are really stylish.
The rest of the mountaineers arrived. That's an eclectic mishmash of adrenaline and adventure junkies.
All set for Igbaras and Mt. Napulak despite the overcast weather.
After an hour or so on the road, we arrived at the Igbaras municipality hall where we registered ourselves as climbers. It is important and good etiquette to visit municipal halls, baranggay halls, or tourism offices before attempting to climb the place's mountain treasure. It is a precaution; if you or your team hasn't logged out at an appointed time, the baranggay will be alerted to your absence and may organize a search and rescue expedition.
Baranggay officials can also help you secure guides or provide you specific information you need before proceeding to your adventure. And their advice proved useful in this trek. They recommended us not to use the standard trail due to a landslide that actually crossed the trail. It was still navigable, but the harsh winds and slippery, muddy soil would make it riskier. Besides, we had with us first-timers on a major climb. So we decided to use the exit trail to go up the mountain. Ma'am Yammay said it is steeper but safer.
After almost an hour of riding the jeepney, we saw this massive mountain. Yes, Mt. Napulak is part of that range. See that monstrous waterfall at the side of the mountain? More on that a little later.
At the jump-off point at Baraggay Tigbanaba where we ate a quick lunch, it started to rain really hard and the wind picked up. I was already having second thoughts in continuing the climb and aired my sentiments to Sir Ruel. The local guide however said that the weather is usually like that in their place, which was a little comforting.  After a few minutes of deliberation, we decided to go on and brave the storm hoping that Mr. Sun will come out and rain will stop.
We are the Yellow Team! The mighty, mighty Yellow Team!
After a short prayer in the pouring rain, we started the climb.
Climbing up a rocky hill during a heavy bout of rain in the middle of a storm. Nice!
We rested for a full 15 minutes after two hours of ascending.
The refreshing drizzle and body heat from the trek pumped up blood to my sweetie's cheeks. She looks lovely!
After a few miles of trekking, we came to this interesting rock path. Would you believe that this is actually natural?
An hour later, we arrived at the terraced rice paddies before the Napulak mountain range.
Crossing the paddies. See that green house? That is actually the REAL jump-off point.
You need to be careful when crossing the rice paddies. One misstep to the right and you'll careen down a short cliff. One misstep to the left and you'll end up in knee-deep mud. Not fatal or injurious but truly embarrassing.
Scrambling up the muddy trail.
The REAL jump-off point where it started to rain really, really hard.
After a short rest, it was time for the REAL assault.
Remember that massive waterfall? That's Tarugan Falls. According to Ma'am Yammay, this was her first time that she saw water falling from the falls. So, I guess, water falls from it during rainy season. I'm not sure about the access; with a waterfall this prominent, there should be an access trail here somewhere. Yammay said that there is indeed a trail leading to the waterfall, but it is quite difficult to traverse. The waterfall is so high and massive that it cuts through an entire mountainside.
Entering the jungle and continuing the assault while being battered by heavy rain, strong winds, and muddy trails.
Dark and damp, even in the early afternoon.
There were many fast-flowing streams to traverse. This one is particularly treacherous because there's a steep drop-off a few yards away.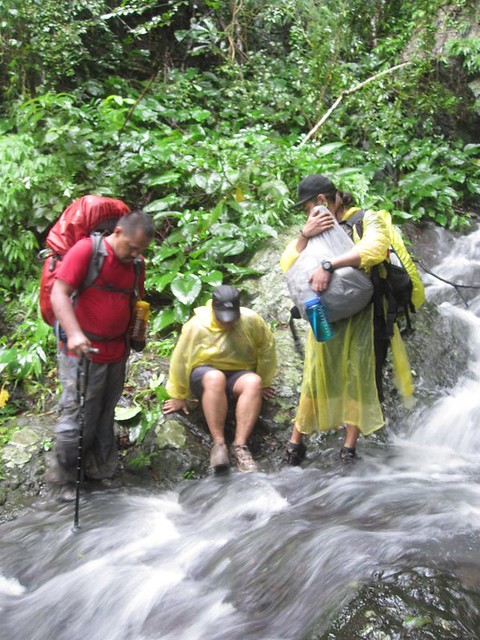 The heavy downpour caused the trails to become rivers of mud.
Another trail washed away by rainwater. Who knows where it goes.
Mud versus foot
Propelling oneself up entails a lot of strength.
Crossing a small, fast flowing stream toward the water source.
Last water source at this side of the route.
Ridge going up the summit. It's very exposed and buffeted by winds.
A short pause at the ridge. It has been hours of continuous assault.
My sweetie was enjoying herself despite the nonstop assault.
It was getting dark and, according to the guide, we were still an hour away from the summit. Worse, the wind blew stronger.
The wind was blowing really hard, and we weren't at the summit yet. While the other contingents pushed on, sir Ruel and the team decided to pitch tents in a relatively protected nook near the treeline because it was nighttime.  We were still 1 to 2 hours from the summit, and the weather was deteriorating badly. We figured out that the woods and the bushes will provide us a substantial degree of protection from the worsening wind. It turned out to be the right decision. Despite the ferocity of the storm, our team was able to sleep relatively soundly while the woods shielded us from the brunt of the wind. We were able to cook a delicious meal. Sweetie and I cooked tuna-filled lumpia and carbonara with mushroom and salami . . .
. . . while Nina, Pam, Botchok, and Nicolo prepared yummy pork adobo.
See those trees and bushes? They all acted as windbreakers. The wind was so strong that it sounded like a jet plane going full throttle in the night. Thankfully, the forest protected us.
Some of our teammates having fun while sweetie and I prepared breakfast. Not in the photo are scrambled eggs with mushrooms, skinless longganiza, and sun dried danggit.
The night before, we planned to make the summit assault in the morning. Unfortunately, the wind didn't die down the next day. Contemplating our next move, Sir Ruel decided it's best to go down rather than risk a dangerous summit attempt. This is one of the virtues of a smart, safe adventurer; you know when to abort a summit bid when the attempt can actually endanger lives. We broke camp and started heading back down.
On the way down, the delegates who were able to summit caught up with us. It was here when we learned that the wind destroyed 3 of their tents and that they weren't able to sleep. The wind was horrendous at the open summit. According to them, the wind buffeted their site from all directions!
On the way back, we found this huge Rafflesia, a parasitic flowering plant. It has no true roots, stems, or leaves. It attaches its absorptive organ in another plant to draw nutrients from it.
On our way down, we stopped by this ridge to admire the view of adjacent Mt. Taripis.
Adventuring lovers! Our bond becomes stronger in each adventure.
Continuing down the ridge. We had to hurry to catch up to the jeep waiting for the team at the jump-off point.
A nice, clean stream awaited us as we went down. This is a great place to wash the thick crust of mud off your shoes.
One of the best things of being a mountaineer is that you develop teamwork and a sense of concern to your fellow teammates. Crossing this hazardous stream becomes safer with the help of trusted teammates.
Beautiful rapids along the trail . . . that we had to cross.
The descent was difficult and knee-breaking.
Whoops! In mountaineering, as with life, sometimes, we fall. But that doesn't mean that we can't get back up.
After several hours of grueling descent, we exited the forest.
After a hearty lunch of tinolang manok, we regrouped with the Iloilo, Bacolod, and Manila teams.
The trip back took longer than we thought, and we arrived at the Iloilo port at 6:55 p.m., 5 minutes before our scheduled trip back home! Despite sore muscles and tired bones, we were able to run like hell so we could catch up our ride. I think we must have ran so fast that we were able to cover half a kilometer of pavement in 5 minutes! But all was well, and we were able to reach our bunks.
Home sweet home Cebu!
Sir Ruel went back the week after to make a summit bid. The weather was overcast, but not at all bad. He was able to reach the Nipple Rock.
For the sake of the team's safety, we aborted the summit attempt during our Mt. Napulak climb. However, sweetie and I are planning to climb the mountain again sometime in 2013. Happy adventuring, everyone!
Photos courtesy of Ruel Olaso, Ronald Ramiso, Nicolo Nasol, Pam Toyugan, Yammay Canete, and Neil Biasbas.
Tips:
• First 2 hours of Day 1 is an open trail. Prepare for a very warm trek ahead.
• There's no water at the summit. Mountaineers are advised to prepare packed dinner in order to consume less water at the summit. The next water source can be reached 2 hours away in the decent the next day.
• The final summit assault is an open trail. Prepare for the sharp cogon grass by wearing long sleeved shirt and gloves.
• Registration at the PNP and Municipal Tourism Office is a must to coordinate rescue efforts in case of emergency.
• Inform your guide earlier if you wish the Elgario Family to prepare you lunch if you choose to descend to Brgy. Passi the next day.
Suggested Itinerary (from Ma'am Yammay of Higher Grounds Mountaineers):
Day 1
7:00AM ETA – Iloilo Airport (or Iloilo Port)
• Take a Van going to SM City Iloilo (Php 50.00).
>from pier double ride (Php.14.00)
7:45AM ETA- SM City Iloilo
• Take Leganes Jeep going to Jollibee UPV for your breakfast or any eatery nearby.
7:50AM ETA – Jollibee UPV
• Eat Breakfast.
• Take a Taxi going to Iloilo Supermarket (Php 50.00) or any Jeep going to Iloilo Supermarket (Php 7.00).
8:30AM ETA – Iloilo Supermarket
• Final Shopping of Food Supplies.
• Locate the Igbaras Jeepney Terminal located at the right wing of Iloilo Supermarket.
• Take the Igbaras Jeep going to Igbaras Town Proper (Php 50.00).
10:00AM ETA – Igbaras Town Proper
• Register at Igbaras PNP Station.
• Register at the Igbaras Municipal Hall Tourism Office (Look for Engr. Delgado, the tourism officer or Sir Dan)
• Take a habal-habal/motorcycle going to Brgy. Bagay, your Jump-off point.(Php 80.00).
11:00AM ETA – Brgy. Bagay
• Register at the Brgy. Log-Book (if asked only).
• Start trekking.
12:30PM Lunch on trail (Tree-lined Area) that has water source
• You can cook your lunch in this area, try to take your Guide's advice for the most ideal location.
• You may also cook your packed dinner to save water since there is no water at the summit.
3:00PM ETA – Last Water Source
• Pack at least 3 liters of water for the summit assault.
• You may also wish to cook your dinner in this area if you fail to prepare your packed dinner during your lunch.
5:30PM ETA – Summit Area
• If you arrive earlier, you may wish to climb up the rock that forms the "nipple" of the mountain.
• Pitch tent, eat dinner then rest
10:00PM Lights Off
Day 2
6:00AM Wake UP Call
• Cook breakfast.
• Eat then prepare for the traverse descent to Brgy. Passi.
8:00AM Start Trekking
9:30AM ETA – Water Source
11:30AM ETA- Elgario Family House
• You may take your lunch here
• If you have prior arrangement with your guide, Tatay Murot, the Elgario Family could prepare you native chicken for lunch.
• Native chicken would usually cost Php200 each and have your rice surrendered in exchange of the already cooked rice the family had prepared for you.
• The Elgario Family will not require you to pay for their services but mountaineers may give them a little cash if they wish to.
2:00PM ETA- Brgy. Passi Proper
• From here, you may have the option to visit Nadsadhan Falls which is about 20 minutes away from the Brgy. Proper or go to the river then refresh yourself before returning to the city.
• Register at Brgy. Passi Log-Book (if asked) then take a habal-habal/motorcycle going back to Igbaras Town Proper
4:30PM ETA-Igbaras Town Proper
• Take note that the last Jeepney to leave Igbaras Town Proper for for Iloilo City is 5PM.