Ever since we started mountaineering, we've always wanted to climb the verdant slopes of the gorgeous Mt. Talinis in Negros Oriental considering that the mountain is relatively close to Cebu. And we heard exciting stories about it: the unspoilt trails, the virgin forests, the gentle lakes as well as the agonizing terrain, the dangerous slopes, and the exhausting trek.
We were not disappointed.
Sheila Mei and I and a few climber friends from Dumaguete, Iloilo, and Cebu, through the organizational efforts of Sensei Ruel Olaso, decided to climb the beautiful mountain last September 22 to 23, 2012.
At 1903 MASL, Mt. Talinis, also known as the Cuernos de Negros (Horns of Negros), is the second highest mountain on Negros Island after the magnificent Mt. Kanlaon. This potentially active stratovolcano is located around 9 kilometers southwest of Valencia municipality and 20 kilometers from Dumaguete City. It's quite a huge mountain, with a base diameter of around 36 kilometers. With a trail difficulty of 6/9, it is considered a major climb for most mountaineers. Usually, guides recommend a 3-day itinerary, but because many of us have work on Mondays, we decided to compress our itinerary to 2 days. This was quite a challenge because we took the most comprehensive route with the jump-off at Bediao, Dauin and the exit at Apolong, Valencia.
According to the Cokaliong shipping schedule, the ship departs Cebu at 7pm and arrives at Dumaguete at 1 AM the next day. Fearing that we might have to disembark the ship at 1 AM in the morning (and being left stranded in Dumaguete until 6 AM), Sweetie and I decided to arrive a full two hours earlier so we can sleep early and have a good night's rest in case we need to stay awake from 1 AM to 6 AM. Fortunately, the Cokaliong crew said that we can sleep up to 5 or 6 AM until they unload the cargo and proceed to Dapitan at 7am. So, all is well!
Sweetie bought a packed dinner of fruits, meatballs and lumpia. Yummy! If you're closely monitoring your budget, I strongly advise NOT to buy food from the ship's canteen. One can of soda costs P50, which is 25 or 30 pesos more expensive than when bought from the supermarket. I also asked how much their jumbo pack noodles are (you know, the Lucky Me noodles where you only need to add hot water). It costs a whooping P75! Crazy!
The Cebu delegation arrived in Dumaguete around 2 AM. We slept until 4 AM, did our morning rituals, and disembarked at around 5:15 AM. We met with our guides Sir Kevin Rocamora and Sir Jay Warren Ferolino at the McDonald's outlet. Personally, I don't like eating fast food when I visit a place; I'd rather eat locally cooked dishes. So, Sir Warren accompanied us to their local market. Here's an early-morning scene in Dumaguete's local market.
That's our really tasty breakfast, rice, omelet, and really hot, really fresh tinolang isda. Beats any fast-food meal.

After breakfast and buying packed lunch, we went back to the junction where the rest of the team composed of Ilo-ilo based mountaineers met up.
The traditional jeepney that will take us to Dauin. We strongly recommend hiring a jeepney to take you all the way to the jump-off point. It's a whole lot quicker, safer, and cheaper than if you have to take a habal-habal.
All set for the climb!
An hour or so, we reached the jump-off point where everyone prepared themselves for the grueling climb. Remember that Mt. Talinis's trail is rated 6/9, 3 points shy from the most difficult rate. Compare that to Osmeña Peak, Cebu's highest point, which is 2/9 and 3/9 when doing a traverse to Kawasan Falls.
Registering at the jump-off point. Registration is important because it allows local officials to monitor your team as you go up the mountain.
The bulk of Mt. Talinis is covered in fog.
After a short prayer, we started the climb. The first few kilometer takes you to farmlands.
Just after 15 minutes or so of trekking, a magnificent view started to unravel. That's the southeastern view of Negros Oriental with Dumaguete City barely visible (in the picture, but clearly visible in actuality) at the slope.
We reached a dirt road that led us to the start of the ascent proper.
Going up. We've been climbing for less than 30 minutes and we were already panting the hell out. But don't worry, that happens during the start of every climb as your body adjusts to the pace. You will feel better after your first rest stop.
Yup, we're going into that mysterious, misty Maribuhok forest.
We arrived at our first rest stop at the entrance of the Maribuhok forest. Five minutes of recovery and we felt a whole lot better after our bodies adjusted to the pace.
A short while later and after catching our breaths, we were on our way up the mountain again. Look at those giant ferns!
Mossy rocks! Be careful, they're quite slippery.
A tree that, we felt, is actually an animal. Hehehe! Those stems reminded us of tentacles.
Second rest stop at a ledge which overlooked a beautiful view of the surrounding peaks.
After around 10 minutes, we continued up the trail. The trail in this section is filled with mossy rocks, so we needed to watch our steps.
This is one thing we really hate most in trails…fallen logs where you have to crawl under them. Knees hurt, clothes get muddied, and bags are snagged. But it's all part of the adventure.
Waiting for the rest of the team.
An hour later, we reached the ridge rest stop. I reckon this is the ridge that separates the two peaks of Mt. Talinis. Guide Sir Kevin said that on a clear day, you can see Dumaguete and the south of Cebu from here. Here's Sweetie, admiring the view.
That is one extremely steep slope beside the ridge. No one can survive if he falls down that cliff.
The rest of the climbing party arrived a few minutes later. And yes, we were all tired. Just look at our faces. Hehehe!
15 minutes later, as we moved out into the jungle beyond the ridge, it started to rain.
Deep into the jungle, we found this water source.
And after more than an hour of navigating very rough terrain, we found this at the end of this segment of the trail!
That is Lake Yagumyum, one of the highlights of Mt. Talinis. The freshwater lake gets its water from rainfall, which flows down the slopes surrounding the lake. Considering that Mt. Talinis is a potentially active volcano, we think this was one of its ancient craters.
A rock outcropping at the edge of the lake.
Postcard perfect moment, and never mind our wet faces.
Eerie trees at the shore of Lake Yagumyum. If you look closer, the branches would look like wicked, gnarled hands.
Lake Yagumyum takes its name from the Yagumyum flowers that blossom around the area.
Preparing to take our lunch at the campsite of Lake Yagumyum.
Sweetie cooked delicious pork adobo for our packed lunch. And we bought the bam-i from the market. Packed lunches are advisable when you're on the trail; you don't need to spend a lot of time cooking for your meal.
After lunch and being re-energized by the meal, we continued on our way up to Lake Nailig, our campsite for the night. We passed by ancient ditherocarp forests just like those of Mt. Kanlaon and Mt. Mandalagan.
Yes, the trail involves negotiating over that slippery log. That's a ravine to the right.
Aside from crawling under fallen trees, there are times when you have to climb above them.
Sir Kevin Rocamora calls this "The Portal." This marks the halfway point to Lake Nailig. Time check: around 3pm
Going through The Portal. My knee hurts. 😦
Sweetie's turn through the portal. This is easy for her because she's small.
After sometime of trekking, we came to an area where the ground is held by roots! Yes, you heard me right. Strange as it may sound, it's the other way around!
Start of what I call the "root" trail because there were so many roots on the trail. Root trails are difficult to walk on because they're slippery and soft. The good thing about these trails is that you have a lot of handholds and footholds.
My sweetie navigating on the root trail. Don't be fooled…the ground is held by roots!
See those roots? Yes, you have to navigate through them.
Photo op before proceeding. Yes, the roots are holding the ground.
Climbing down a 30-foot drop. Don't worry, it's easy since there are a lot of roots to hold and step on.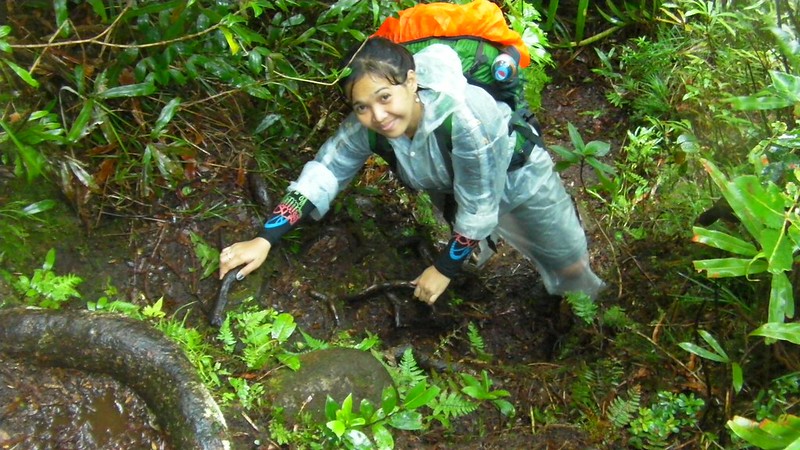 My sweetie fell down this trail. Good thing she knows how to fall properly and escape injuries.
More than an hour later, we came to a ledge Sir Kevin called the 2nd junction and saw this view. Is that water I see? Could it be…
Starting the descent towards that watery thing we saw earlier at the 2nd junction.
There it is! At around 5:30 p.m., we finally saw the sparkling waters of Lake Nailig.
Finally, we reached the shore of Lake Nailig at around 6pm. Welcome to Lake Nailig!
The trail is easy-peasy, just following across the shoreline, and a stark contrast against the difficult mud, root, and rock laden trail that leads to the lake. Think of it as Mt. Talinis's first-leg Walk of Fame.
Very beautiful, placid lake. Photo op before the light of the day disappears.
My Sweetie, relaxing and enjoying the view of the peaceful, sparkling Lake Nailig.
We quickly pitched our tents and set camp before the light completely fades away. It was the fastest tent-pitching ever since we had to race against the relatively bad weather. Trust me, you don't want to set up a tent while raining!
After having our tent pitched, Sweetie and I slipped on some warm clothes and started cooking dinner.
We prepared a hot noodle soup with sardines and tuna-and-egg melt . . .
. . . while the guys from Ilo-ilo prepared this sumptuous sinigang baboy and a beef dish…well…I dunno what that is, but it was delicious!
Dinner call in the middle of a drizzle!
Attack!
Check out Part 2 for the second half of this cool adventure!
Some photos courtesy of Sirs Ronald Ramiso, Vincent Tambanillo, and Bernie Intrepedo.