There's a remarkable place in Cebu where you can have a variety of adventures in just one venue. It's a place where each member of the family, from the young toddler to the elderly grandparent, can have a whole day of fun. It's a place so close to the conveniences of a modern, progressive city yet tucked in a verdant paradise. It's a place where those who want to enter into the world of adventure can have a first-hand experience of what the world is in a controlled environment.

This place is Papa Kit's Marina and Fishing Lagoon in Silot Bay, Liloan, Cebu. We consider it more as an adventure camp than a mere "marina" or "fishing lagoon."
Last Sunday, March 10, Sweetie and I felt (again) too lazy to head out to Cantabaco and other usual haunts. However, as always, we have that quaking need to get that adrenaline rushing through our veins. So after a hearty breakfast of eggs, fried rice, meatloaf, and cappuccino, we decided to spend an afternoon at Papa Kit's. We've heard really good reviews of this place from our good friend and fellow blogger Leylander (My Cebu Photo Blog) and our loved ones who visited there.
After an hour and a half of riding a jeepney, we finally reached the road that leads to Papa Kit's. Now, take note, this is just a large sign beside the highway; the actual entrance of the resort is farther down the road. The road leading to Papa Kit's is just before the Liloan Municipal Hall and the San Fernando Rey Parish Church. From Cebu City going to Liloan, the sign is quite visible at the right side of the road, and it's quite impossible to miss it.
Here's a tip. If you want to reach Papa Kit's faster and shave off 30 minutes of your travel time: take a northbound bus and tell the conductor to drop you off in front of this sign.
As mentioned earlier, Papa Kit's is still a little farther down the road. If you don't want a warm-up hike, you can always ride the shuttle. Don't worry, it's free of charge. Clients usually ride the shuttle to go around Papa Kit's because the area is considerably large. As the vehicle trudges through the trail, you can actually feel a glimpse of your adventure as it passes mangrove areas, fish ponds, grazing areas for horses, restaurants, and other facilities of the resort. Best of all, you can make new friends with your fellow passengers such as these happy Korean tourists.
The actual entrance is just a minute from the highway or around 10 minutes of walking. Entrance fee per person is P100, half of which is consumable on food and drinks. This place also serves as a frontline information center for the resort. Don't worry if you're driving your own vehicle; there's ample parking space here. You can simply park your vehicle, pay the entrance fee, then ride the shuttle farther into the resort.
One of the first facilities that you come across is this large fishpond. This is Papa Kit's fishing area. You can rent one of these huts where you can have your fill trying to catch tilapia and milkfish that swim under the waters of that pond. We promised ourselves to try fishing on our next visit.
Climbing Wall
Our first adventure, as recommended by the friendly shuttle driver (who tells us to "smel" to the camera), was attempting to reach the anchor of their climbing wall. You'll know why in a moment. We paid P100 each to climb the wall then geared up for adventure.
Seeing climbing walls, cliffs, boulders, and anything that can be climbed makes us feel stoked. So don't be surprised if we suddenly stop talking in the middle of a conversation. Chances are, Sweetie and I are mesmerized on something we found—a cliff, a climbing wall, a huge boulder field, etc.—that is worth climbing. Anyway, all set to climb!
Those are our friendly belayers. Note that unlike other climbing walls, they're not using Petzl Gri-gris; they are using standard ATCs. Also, note the barrels. That's where they place the standing ends of the ropes to keep them from dirt. Ingenious!
It's climbing time! That's me reaching the top of the wall. Papa Kit's wall is quite easy to ascend because it has really large holds. The holds are mostly jugs and large pinches. In fact, I was able to climb it around six times without falling or hangdogging (i.e., hanging on the rope).
You know, we had a very interesting experience. Knowing that we're going to ascend a climbing wall, we brought our rock climbing shoes and chalk bag. Imagine our surprise when the belayers and the other staff present asked us everything about our equipment. It turned out that they haven't seen other climbing equipment before other than carabiners, harnesses, and ATCs.
Then it was Sweetie's turn to ascend the wall. This was a bit of a challenge for her since the holds are quite far from each other. She wasn't able to reach the top, but she will try harder next time, right Sweetie? Hehehe!
Here are a few more of Sweetie's photos. Isn't she great? Let's just say that the Papa Kit's friendly staff was "interested" in the "peculiar" way we climbed. When we revealed that we are rock climbers, they eagerly engaged in an energetic conversation with us. Do you have all the gears? Have you climbed a cliff? Is it hard to climb a cliff? Where do you usually climb? Have you seen the movie "Vertical Limit"? Can the rock climbing accident in the movie really happen? And so on. Indeed, they were so engrossed in talking with actual rock climbers that they agreed to let us climb more than three times. Of course, we politely declined to give way to other customers.
Zip Line
Oh, yes, we did say something about why we chose the climbing wall first? Well, that's because if we reach the top within three attempts, we are entitled to one free zip! Cool! That's P200 per regular zip per person worth of savings! Since it was only me who reached the top, we got one free zip line.  We donned on our helmets for safety.
The zip line towers on both ends are about 60 feet up in the air.
At 800 meters (in reality, it's 400 meters per zip trip), Papa Kit's Zip line is touted to be one of the longest zip line in the Cebu island. The line crosses the lagoon and into that small island at the center. There's a second launch tower in that island with a line that leads back to the main land. According to the staff, Papa Kit's is planning to put up a watersports facility on that lagoon. We think doing so puts the company at the right direction, and it would be Cebu's answer to the famous CamSur watersports facility.
While the crew set up the lines, we took the opportunity to take a few photos.
Heave ho! And off we go to the other island! Woohoo! Being up in the air and moving at high-speed is really exhilarating! At least we now have an infinitesimal sense of how birds feel as they move in the air.
After reaching the island tower, we excitedly strapped up for the return trip. We were beaming all over as we asked the attendants to launch us so that we'll zip together. Can you spot us?
The zip is over, but the feeling of exhilaration lingered in our system. We tell you, you NEED to try Papa Kit's Zip line. It's worth it. Don't forget to bring a digicam or a video cam to record your zip!
Other zip-liners had their share of fun. You can have the regular zip, but for more heat and zest, try out the "superman" zip, which you have to use a special harness. And if your kid wouldn't try the zip without you, don't worry. There's a tandem harness that straps you both together.
Two adventures in a row can really take a toll on your tummy. So we headed out to one of Papa Kit's three restaurants to claim our meal. Huh? You had a free meal? Yes, sort of. Remember, half of the P100 entrance fee is consumable.
You can order your meal from this nice lady. We're not sure though if they charge for corkage for meals bought outside Papa Kit's.
However, you may find out that your P50 consumable amount may not be enough to cover your meal. Sweetie and I had to pay P10 (a small amount really but nevertheless, it was extra expenditure) for two siopaos and two 8-oz. Cokes. We guess P50 isn't really enough for us. Hehe! Anyway, the siopao is quite big and filling. No problem there even if we did spend a bit extra.
Other Adventures and Facilities
You can also try out riding their all-terrain vehicles (ATVs). We haven't seen any off-road course in Papa Kit's, just dirt roads and trails for shuttles and people. Either you share the dirt roads with shuttles or there's an off –road course hidden somewhere.
On our way to the lagoon's pier, we encountered another leisure facility, the Hanging Bridge. The bridge-walkers squealed in terror and delight as the bridge swayed wildly with every step they take. It's music to the ears.
If you're a birdwatcher, then you should definitely visit Papa Kit's Aviary. We heard that they have an extensive collection of hawks, kites, and other avians in there. The entrance fee is only P30. We weren't able to go inside for lack of time, but this will definitely be included in our next Papa Kit's trip.
Wild, free, native chickens and genians (What are these, Sweetie?) patrol the outside of the aviary. Don't worry, they won't attack you.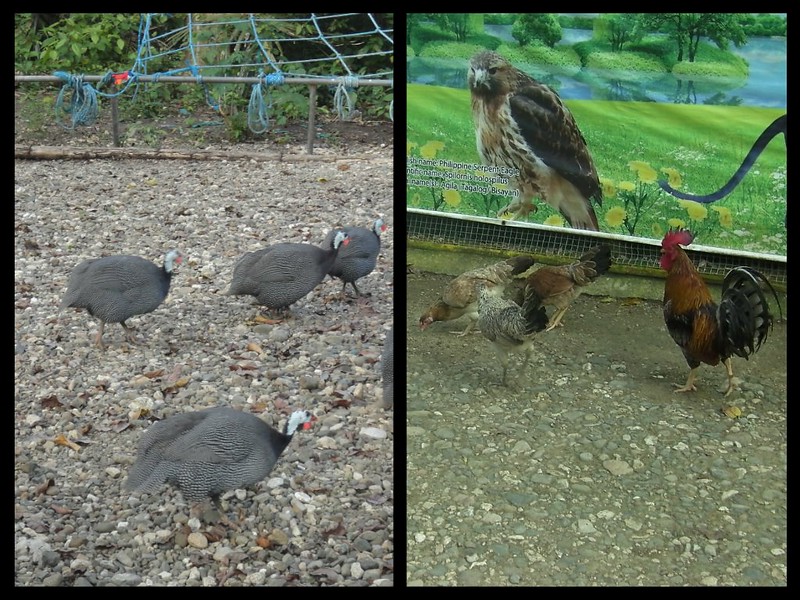 You may also find horses like these in Papa Kit's. That's one big, healthy horse. It's chunkier than any of the horses that once roamed the streets of Colon and Sancianko. Suddenly, we imagine we were in the Wild West.
As you guessed it, Papa Kit's also offer horseback riding. Pressed for time, we weren't able to ride these magnificent animals. But yes, riding horses will surely be in our next Papa Kit's itinerary.
If you decide that one day is not enough for you to experience all the adventures in Papa Kit's, then you can stay in one of their cozy rooms. They look pretty awesome and welcoming.
Checking out the prices of their activities is easy. They're printed all over big boards. They're pretty reasonable too in our opinion.
Watercraft Paddling (Canoeing)
We reached the lagoon's pier around 5:00PM. Sweetie was quite excited to try out rowing.  We haven't tried kayaking before, and we would like to know how it is to row such a vessel.
Unfortunately, Papa Kit's doesn't have kayaks. The staff told us that what they had are canoes. Well, as long as they float in water, that's fine with us. Sweetie and I donned on our life jackets, boarded the small vessel, and started paddling away.
Let's head to deeper water, Sweetie. It was low tide, and if we fall at this point, the water would probably be at waist level.
Sweetie steered the canoe from the front while I provided power from the back. Hmmm . . . we definitely have a new outdoor-sport interest.
You can row all around the lagoon. Rowing a canoe is a very relaxing experience. Check out the vista; that will definitely calm anyone's nerves.
Yes, you can row right underneath the zip line and take awesome photos of zip-liners. Extensive mangroves line up the lagoon.
A couple of Korean tourists (our co-riders in the shuttle) also went kayaking. They enjoyed the whole experience.
If you'd rather not paddle, then you can always take a ride at a motorized dinghy. It's pretty cool, but we'd rather take up the oars. We don't feel the thrill of cruising around something without doing anything.
We think the best time to paddle around the lagoon is late afternoon to avoid the sun's glare and extreme heat.
Magnificent sunset over Cebu.
Farewell, Papa Kit's! We'll be back for more!
Tips:
1. It isn't difficult to reach Papa Kit's. Virtually every jeepney, bus, or taxi driver knows where it is. Just for info, it's located at Silot Bay, Liloan, Cebu. You can call the Papa Kit's landline at (032) 520-2116 or text/call them at 0922-8075594 or 0922-8838012 on cellphone.
2. You can take a Liloan, Compostela, or Danao bound jeepney to get there. Or you can take any northbound bus for a faster trip since buses don't stop to pick up passengers often. Prepare to pay P12 to P14 as fare.
3. Papa Kit's opens at 6:00 AM and closes at 6:00 PM. We recommend going there early morning or in the afternoon to avoid being roasted in the sun, especially if you're planning to go canoeing. However, if you don't mind this minor inconvenience at all, then you can definitely try out everything any time.
4. The zip line is Papa Kit's main attraction. We highly recommend it. But before you do, try your hand at wall climbing first. If you reach the top of the wall within 3 tries, the fee to one regular zip line is waived. You save P200.
5. Be sure to avail of your consumable P50; it's your right as a customer. However, note that the prices of meals and beverages sold in any of their restaurants are higher than normal, which is a typical setup for a resort. For instance, a siopao costs P40 while an 8-oz. bottle of Coke costs P15. You may need to shell out a little bit so you can have a basic food-and-drink snack.
6. Papa Kit's is absolutely perfect for kids. Make sure you bring your little ones to Papa Kit's so they could be introduced to the world of adventuring.
7.  We haven't tried all facilities in Papa Kit's, so as of this time, we won't be able to give you a lot of details, prices, etc. Well, no worries though, because we'll definitely go back there.