Lofty mountains, verdant forests, limestone cliffs, and dark caves aren't our only playgrounds. Indeed, Sweetie and I are summit-to-sea adventurers. When we learn about something—a destination, an activity, an event—that will make our adrenaline surge, something that will make us marvel at Mother Nature's magic, something that will truly humble us, and something that will let us cherish our closeness with one another, we dive for it.
The Bojo River in Aloguinsan is an example of that something. When we learned that Aloguinsan's local government has marketed a river cruise after browsing my good friend and fellow blogger Leylander's entry "Finding Bojo," we immediately knew we had to try it. After a diligent research on the Net, we figured out that the Bojo River cruise is safe and hassle-free enough to be undertaken by non-outdoorspeople. So, Sweetie and I decided to bring along Alexa; Lei, Alexa's best friend; and the Duders Lillian, Kristine, Muffins, and Dannea of Top Loading for Life.
We started our trip early at 5:30 AM, April 14, Sunday. After 2 hours of traveling by bus, we reached the progressive port city of Toledo, known mainly for its mining industry. Toledo is also the jump-off point for people heading to San Carlos City in Negros Occidental. For us, it is our gateway to Aloguinsan since there are hardly any buses in the South Bus Terminal that goes directly to Aloguinsan.
This is Toledo's pier which is just beside the terminal. Behind us is the faint outline of the majestic Kanlaon Volcano.
Based on our research, we were supposed to board a jeepney to Aloguinsan proper from the Toledo Land Transportation Terminal. While asking around, a kind old, driver offered to drive us all the way to Bojo River at a fair price of P60. Not bad at all! Look at it this way: if we were to go the usual way, we'd pay P35 to reach the Aloguinsan market. From there, we need to ride a habal-habal to Bojo River, which may probably cost P15 to P20. Then there were kids with us. We'd say, we got a pretty good deal.
An hour or so after, we arrived at the trailhead of Bojo River. As you can see, we're pretty excited. Notice the Adrenaline Romance shirts? Well, some close friends of ours want to have one. Hehe!
The Duders themselves were excited despite the summer heat. The short 230-meter hike to the reception area was filled with moments of anticipation.
The entire riverbank is a natural "museum" thanks to the efforts of Aloguinsan's hardworking LGU and effective tourism campaign. Along the way, we found lots of signs like these that identify various kinds of flora. One suggestion though: it would be better if the info also includes what the plant is used for or how it shapes Aloguinsan's local culture rather than just putting in the local name and the scientific name.
Along the way, we began to get a glimpse of the majesty of this river. Just check out that green water and palm-like mangroves seemingly trying to welcome you. It's awesome!
Then we got our first glimpse of Bojo River. That's just a huge WOW! The serenity of the place simply overwhelmed us.
After 15 minutes, we arrived at the reception area where we registered our names for the Bojo River cruise.
A simple tarp eloquently but easily describes the importance of mangroves and river systems to marine creatures.
A buffet table was prepared for some tourists who purchased an entire tour package. The buffet lunch is part of that package.
Colorful decorations made from local and natural products provide a very provincial, Cebuano feel. Coconuts decorated with tiny flowers, a fantastic gumamela arrangement for the table's centerpiece, and a model of a pawikan (green sea turtle) are just a few of the decors that make you feel proud and amazed of Cebuano creativity and ingenuity.
Sweetie and the kids didn't have breakfast before we left home, so we took our fill here. Yes, you can bring your own food here without incurring a corkage fee; that was what we did. While we ate our meal, the rest of the Duders put on their makeup…errr…sunblock and prepared for the cruise.
After paying the fee, Ms. Nonela Villegas from Bojo Aloguinsan Ecotourism Association (BAETAS) briefed us about the tour. From her, we learned that the name "Bojo" is the Spanish term for "river ceiling." However, in the Visayan dialect, it is pronounced as "bo-ho," which refers to the "hole" (actually, an inlet) at the end where the river exits the sea. In the past, Cebuano fishermen made their way into the inlet to seek refuge from bad weather. The inlet also hid Cebuano warriors from Spanish and Japanese invaders during the Philippine Revolution and World War 2, respectively. Ms. Nonela also discussed the rules, regulations, and safety precaution that we need to know before embarking on the cruise.
Half of the fee goes to the guides while the other half goes to the LGU.
The tranquil Bojo River is a very important artery of the municipality. As mentioned before, it is a gateway to the sea where fishermen harvest Mother Nature's bounty. It is also a source for farmland irrigation, a place where town folks can socialize, and a place where marine life can flourish. In other words, the river is Aloguinsan's lifeline.
Once the briefing was over, we were ushered to the staging area where we donned life jackets. Hmmm…Southpeaks makes life jackets? That is so cool!
Then it was time to board the baroto, a traditional Filipino boat equipped with outriggers for balance. We chose a large baroto because there were kids with us, and we didn't want them to ride a smaller baroto themselves. Barotos can be paddled, but this one had an engine although the mechanism was not switched on.
Definitely, everyone was super excited about this cruise.
The large structure is where guests who paid for an entire package will go for cultural demonstrations. That small floating structure is a raft. It must be pretty cool to float around on one of those while chatting with fisher folks.
That's the well-maintained and clean reception area and dock. That's where we came from, and that's where we will return after the cruise.
She's our wonderful guide, Manang Bella. Aside from being a highly trained BAETAS tour guide, she is one of the many fisher folks who harvest the bounties of the sea. She is an exceptional guide; let us say, she is at par with biology professors that we have in high school or college. Just to give you an idea of how knowledgeable she is, Manang Bella knows the local and scientific names of the different types of mangroves and flora and is very familiar with mangrove biosphere and ecosystem.
According to Manang, Bojo River along with its riparian zone is a 1.4 kilometer protected nature reserve. Aside from the innumerable species of flora, the river is also home to more than 60 species of birds, 2 of which are migratory.
The nipa that makes the roof of traditional bahay kubos (Philippine huts) can come from this species of palm-like mangroves. This is just one of the many species of mangroves that line up the Bojo river.
That's a magnificent, unspoiled, extensive mangrove forest. Mangroves, by the way, are kinds of medium-height trees and shrubs that grow and adapt to in saline coastal areas, especially in the tropics and subtropics. In other words, they are trees and shrubs that grow by the sea. Ordinary terrestrial trees and plants die when exposed to salt water.
The river cruise is basically a 45-minute relaxing and educational ride along these mangrove forests.
Each mangrove has its own mini-ecosystem that is very important to the river and the sea. Take a look at these roots, for instance. Fish from the sea swim inland and lay their eggs within the protective "cage" of the roots. Within a few weeks, the eggs hatch. The roots are the temporary sanctuaries of baby fish, which also serve as their storehouse of oxygen and food. In time, the little fish will mature and will leave the sanctuary so they can head out into the sea.
At first glance, these bubbles look yucky. All the while, we thought that this was dirty. Coupled with fallen leaves, the water seems to be polluted and unfit for swimming.
But actually, those bubbles are the result of oxygen being produced by the mangrove. Remember your biology class? Plants breathe carbon dioxide expelled by animals and humans. In return, they expel oxygen for animals to breathe. This action oxygenates the river, providing fish (and us) with sufficient oxygen to breathe. The oxygen is expelled from pneumatophores, or the "breathing organs" of the mangrove. The pneumatophores, which look like spikes jutting out of the ground, are specialized roots that also enable the mangrove to extract carbon dioxide from the water.
Those fallen leaves provide a tasty, nutritious treat for fish.
Keep quiet, and you can even hear the symphony of bird calls. The gentle splashes of oars add a very tranquil and provincial feel to the cruise. This cruise, by the way, takes you a distance of 1.4 kilometers on brackish river water.
The river's water is brackish, which is a mix of fresh and salt water. The sediment below the river makes it look green and cloudy. But we assure you the river is squeaky clean. And the water is very cool.
Bojo is home to a vibrant fishing community. Fishermen's boats are docked at the shores, ready to go during the fishing season. However, due to the river's protected status, fishermen and locals are not permitted to build any structure in the area.
See that stair-like rock? That is called an asinan, a natural basin that locals use to produce salt. Bojo was once a producer of salt, but for some reason, the industry was abandoned long ago.
The Bojo River is full of life. Along the way, we saw fishermen heading out to sea and kids playfully splashing in the clean water.
As we headed further up the river, we saw these shy kids at the shore hunting for freshwater crabs, shellfish, and mollusks.
We came around this bend and the river became wider. The water also became clearer, which means, we are nearing the mouth of the inlet. Manang Bella said that there were lots of monkeys that used to live in the trees above the cliffs. They were hunted down long ago.
Along the way, we found this "cave." Manang Bella explained that this cave is actually man-made. They were blasted long ago by treasure hunters who were searching for the fabled Yamashita's Gold, a war loot allegedly stolen by Japanese forces during World War 2.
Rounding the bend, we finally saw the exit that leads to Tañon Strait, the narrow strait between the islands of Negros and Cebu. From this viewpoint, it is not difficult to understand why Bojo River serves as a perfect refuge for fishermen.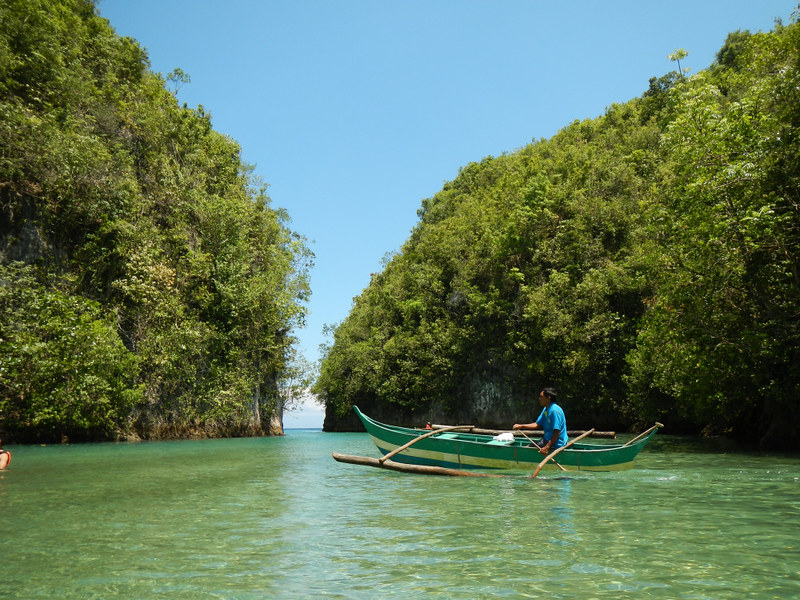 We asked our rowers and guide to stop the boat so we can take postcard-perfect photos. As you can probably see in our faces, we were extremely satisfied with the tour. When we went home, Lei's parents told us that the little girl couldn't stop talking about our Bojo River adventure!
A kayaker ventured towards the exit. At this point, the water became a little bit rougher, which means that the sea is starting to "take over" the river.
Going through the gateway to Tañon Strait. Those are tourists and fishermen standing by at the mouth of the river. Passing through the inlet gave us a profound sense of humility and awe. We had a glimpse of the vast sea in front of us and the towering cliffs that surrounded us. Suddenly, we felt utterly ashamed of the notion of self-importance that we, humans, instilled in ourselves. It is one of those moments when we're simply mesmerized and humbled by Nature's grandeur, which puts us back to our place in this world.
The open sea of Tañon Strait greeted us as we passed by the inlet. What a beautiful sea! Tañon Strait is an important marine wildlife reserve that serves as the resting, feeding, and breeding grounds of toothed whales, porpoises, dolphins, sea turtles, manta rays, and many other marine organisms.
Massive rock outcroppings jut out from the sea. Distinct moss lines indicate the height of the water during high tide.
Dannea and we have waterproof cameras, so why not take photos underwater? We found a whole new world under the sea. These are rocks encrusted with corals.
Just check out those beautiful corals! None are dead (gray or white) due to the environmental protection law that governs the area.
Find Dory, Martin, and Nemo. Hehe! Corals are actually very delicate. They are actually invertebrates that protect themselves with a hard layer of calcium carbonate to form an exoskeleton. Corals are very important in marine ecosystems. They serve as sanctuaries for fish and other marine creatures and are lifelines in the marine biosphere.
Unfortunately, coral reefs all over the world such as this one are under stress. Human threats include coral mining, urban runoff, reclamations, organic and inorganic pollution, overfishing, and digging of canals. Other broader threats include an increase of sea temperature, an increase of sea level, and changes in the sea's ocean acidification, which are all linked to greenhouse gas emissions.
It is alarming to know that according to the Earth Institute Center for Environmental Sustainability, 16 percent of the world's coral reefs are already dead.
That sand mesa is just around 10 feet below us. But notice those rays of light and the bluer shade at the right side of the photo? That's what locals call a cantil, or cliff. In other words, that's the edge of a deep, deep abyss.
Numerous fish swim around the inlet. If you notice, most of them are a bit grown-up. They stay near the mouth of the river so when the right time comes, they simply head out to the sea.
After we had our fill of Tañon Strait, we headed back to the inlet. Then the guide announced that we can take a dip here. No one hesitated and everyone jumped in the clear, cool, waist-to-chest-deep water. And yes, we had a whole lot of fun! When Sweetie told Lei not to jump into the water because she was not wearing her bathing suit, Lei remarked, "I don't care. I want to have fun!"
Look at how beautiful the water is. It's not difficult to see why even the most beach-phobic individual cannot resist jumping into the water.
A small baroto pulling a kayak came by. I asked the rower if I can try the vessel. We're giddy to try out kayaking one of these days.
Sweetie with our expert guides and rowers. We salute you!
On our way back to the reception area, we spotted this nice boardwalk. We decided to give it a try.
The boardwalk is 400 meters long and runs alongside the riverbank, cutting through a mangrove forest. For us, it's a wonder of engineering. Just imagine a long causeway all made of bamboo! Along the way are signs that identify species of mangroves and terrestrial plants. Awesome!
At the end of the boardwalk are 165 steps that are carefully carved on a hill. These steps lead to an airy viewing area at the hilltop.
On the way up, we were treated to an encompassing view of Bojo River down below! That's an awesome sight!
After a short uphill trek, we reached the viewing deck which is a simple structure of wood and nipa. We should have brought some snacks here.
The viewing deck offers a commanding view of the surrounding hills, valleys, and farmlands. Alexa and Lei enjoyed the echoes of their shouts as well as the scenery here.
Tourists can buy locally made souvenirs to remind them of their Bojo River cruise and adventure.
Locally prepared and delicious meals await the guests. Unfortunately, they were not for us.
A group photo before heading to our next destination, a side trip to Hidden Beach, to have a cool, refreshing dip. The friendly BAETAS personnel gave Alexa and Lei free leis (garlands) made from local flowers.
We'll definitely come back to this place and explore other hidden wonders of Aloguinsan.
* Some underwater photos courtesy of Dannea Moneva.
Update 3/20/2016: Quoted directly from the Aloguinsan Tourism Office:
"Starting March 7, 2016. The Centralization of the tours in Aloguinsan will be implemented. All bookings and transactions should be made directly to the Tourism Office. Otherwise, all tours in Aloguinsan not coordinated with our office ARE CONSIDERED colorum.
Once you are in the Tourism Office, our staff will give you an orientation and we make sure you understand and follow our tourism policies while in Aloguinsan, before we will give you a PASS to enter our destinations.
Why we are doing this? For many reasons. We want to establish a statistics to better manage visitors and visitor facilities, we want to regulate the carrying capacity of our destinations and we want our guests to feel safe and comfortable.
Please deal with accredited habal-habal drivers and licensed boat operators only.
Kindly call (032) 469-9042/ 0997 371 5698/ 0933 120 9480.

Suggested Itinerary
5:30 AM – meet up, Cebu South Bus Terminal
6:00 AM – ETD Cebu, going to Toledo
8:00 AM – ETA Toledo Land Transportation Terminal, last-minute shopping, look for jeep to Aloguinsan
8:30 AM – ETD Toledo, going to Aloguinsan
9:15 AM – ETA Bojo River trailhead, Aloguinsan
9:30 AM – register at the reception center, breakfast, picture taking
10:00 AM – start river cruise
11:15 AM – finish river cruise, hike to the viewing deck
12:15 PM – back to the reception area, prepare to depart
12:30 PM – back on the trailhead, negotiate for a habal-habal ride to Hidden Beach
1:00 PM – arrival at Hidden Beach, lunch
1:30 PM – swimming and enjoying the beach
3:00 PM – ETD Hidden Beach, hike to the highway
3:20 PM – ETA Highway, ride a passing jeep to Toledo
4:30 PM – ETA Toledo Land Transportation Terminal, board jeep for South Bus Terminal
5:00 PM – ETD Toledo Land Transportation Terminal
7:00 PM – ETA Cebu South Bus Terminal
Estimated Budget per Person (excluding food and extras)
P 70 – non-aircon bus fare from South Bus Terminal to Toledo Land Transportation Terminal (there are also V-hires to Toledo if you wish to travel in an air-conditioned vehicle. Fare is P100, and you can ride on one of these vans at the Citilink Terminal)
P 60 – jeepney fare from Toledo Land Transportation Terminal to Bojo River trailhead *
P 300 – guided river cruise
P 35 – habal habal to Hidden Beach **
P 35 – jeepney fare from Hidden Beach trailhead to Toledo Land Transportation Terminal
P 70 – non-aircon bus fare from Toledo Land Transportation Terminal to Cebu South Bus Terminal (V-hire is P100)
Total Estimated Budget per person (including our lunch, snacks and drinks) – P 700
* if you can't find a jeepney that will head straight to the Bojo trailhead, you can ride a jeepney to Aloguinisan proper (P35) then negotiate for a habal-habal ride to Bojo River trailhead (around P30 as per the advice of our jeepney driver)
** if you can't find a habal-habal that goes directly to Hidden Beach, you can ride a habal-habal to Poblacion (P15). From there, you can ride another habal-habal (P15) to take you to Hidden Beach.
Tips
1. The success of your Aloguinsan River tour is heavily dependent on the tides. It is impossible to sail through the river during low tide. Thus, you should contact the Aloguinsan Tourism Council beforehand to check on the tide during your day of cruising. We made the mistake of not calling them, actually. We were fortunate that when we got there, the tide was already rising.
To contact the Aloguinsan Municipal Tourism Office, use these contact details:
Phone number: (6332) 492-9042
Cell phone: 0997-371-5698/ 0933-120-9480
Facebook Page: Aloguinsan River Eco-Cultural Tour
2. We availed just the river tour. However, BAETAS also offers packaged rates. As far as our research is concerned, these are the rates:
30 to 50 people – P450 per head
20 to 30 people – P480 per head
16 to 20 people – P500 per head
11 to 15 people – P530 per head
6 to 10 people – P550 per head
5 people – P800 per head
The package includes a comprehensive lecture on mangroves, ecology, and wildlife; a traditional send-off ritual which is performed by a village medicine man (mananambal); a buffet lunch; a river cruise, and a mat-weaving demonstration.
Note that we don't have control over the prices, and that these might change without prior notice. Check with the Aloguinsan Tourism Office for updates on the price.
3. The Bojo River cruise can be done in one day. However, it may take more than that if you plan to explore all of Aloguinsan. Now, remember that Aloguinsan is a 4th class municipality, thus, do not expect hotels and inns. Contact the Aloguinsan Homestay Association (ALOHA) at (6332) 469-5604.
4. It is highly recommended that you bring the following:
Snorkeling mask or swimming goggles (the underwater seascape at the inlet is to die for)
Underwater camera (to take great scenes of underwater scenery)
5. Never throw garbage into the river. Not even organic food. Remember that the Bojo River is a protected area. Aside from harming the environment, you'd be slapped a criminal case if you disobey the law.
6. You don't need any special adventuring equipment for the river cruise. However, you do want to bring the following:
water (at least 1 liter)
trekking sandals or sturdy shoes (terrain is rocky)
umbrella, hat, or sarong
sunblock
packed lunch
snacks
rain gear (in case of bad weather)
swimwear (if you plan to dip at the mouth of the river)
extra clothes
extra money for emergencies
7. Listen to the guides. The cruise is more fun and educational if you listen to them.