The ber months are here! For Filipinos, September is the start of the joyous Yuletide season, and the celebration lasts until January next year. But while other countries are gearing up for the bitter, cold season, the Philippines is blessed with a perennial tropical sun so everyone can continue to frolic in warm, pleasant weather albeit the occasional rains. This ber season, we invite you to enjoy a sunny, last-quarter vacation to one of the most popular tropical paradises the Cebu province has to offer—the rocky island of Malapascua at the northernmost tip of Cebu.

At 2.5 kilometers in length and 1 kilometer in breadth, Malapascua is a small  island. Don't let its size fool you because it is world-renowned for its coral gardens, submarine walls, and underwater shoals. Divers all over the world visit Malapascua for a chance to see graceful thresher sharks and manta rays getting themselves cleaned by bluestreak and mooncleaner wrasses.
But even for those who don't scuba dive, Malapascua has a myriad of exciting non-diving activities and picturesque destinations. Indeed, you are assured that your holiday here won't be plagued by boring idleness. Let's check out the non-dive destinations and activities in the island, shall we?
After our tour around Malapascua Budget Inn, it was time to enjoy a tour around this popular resort island. We donned on our swimming outfits and headed out to the southern shore, which is lined up from end to end with talcum-fine white sand.
"All accounted for?" Sir Jose asked after doing a head count. Everyone was in the boat, so it was time to cast off. Everyone felt giddy with excitement, eliciting whoops of delight.
Even as our boat shot free off the shore, the sight of white Bounty Beach seemed to reel us back in so we could enjoy basking in the sun.
Malapascua Island is surrounded by numerous rocky outcroppings and islets. All of these tiny geographical neighbors are home to a rich collection of mammals, birds, and reptiles.
Beneath the waves of these outcroppings and islets lie vast sanctuaries for marine life. Many of these islands have coral walls that are encrusted with magnificent corals, sponges, aquatic flora, and more.
Further out of Malapascua Island are submerged plateaus such as Monad Shoal, a natural cleaning station for massive manta rays and graceful thresher sharks.
Mother Nature is magnificent, but she can definitely be deceiving. Those short, rocky seaside cliffs may look stunning, but we stayed far from them. Even if the day was sunny and clear, it was the onset of the habagat (monsoon) season.
The strong gusts of wind generated large waves that tended to push us to these walls with razor-sharp rocks. One good push and even our tough pump boat would be smashed to pieces.
Lapus Lapus Cliff
We finally saw a small, relatively protected inlet where we could dock and get off the boat. Still, our boatman cast the stern anchor to a stretch to prevent the vessel from smashing on the rocks.
One by one, aided by the boatmen, we swam to the rocky shore where we clambered upon the rocks.
Sir Jose called this the island's mini Batanes, and it was easy to see why. The short, naturally trimmed grass covered this rocky peninsula with a green carpet.
This part of Malapascua is called Lapus Lapus. It is a very popular place for nature photographers as you will soon see.
One of our closest friends, Leylander of the award-winning blog The Cebuano, decided that the soft grass makes a perfect, comfortable bed. Hehehe!
Whoa! The seascape at the end of the Lapus Lapus peninsula is truly stunning beyond words! We silently marveled at the beauty of island, letting the warm sea breeze caress our faces.
Huge waves smash on the rocks below us with thunderous applause. The consistent onslaught of sea waves reminded us of the awesome power of Mother Nature.
These indigenous bushes have adapted to the harsh conditions of the sea. They grow healthy in places where other plants easily perish.
Just to give you an idea of how high this seaside cliff is, check out the photo below. Be careful there, Sweetie! That's quite a long drop, and it gave us shivers knowing how sharp the rocks below are.
Don't you just love diving into that aquamarine water? We would have done that if not for the strong waves that threatened to smash us to the cliffs. This is actually a great site for adrenaline-pumped daredevils who love cliff diving.
Coral Garden
After getting our fill of photos, we went back to our boat and headed to our next destination. As we cruised around the island, we saw more exclusive beaches that would satisfy even the most demanding tourist.
Our next stop was not a cliff or a beach. It was an underwater paradise called Coral Garden, a few hundred yards from the eastern shore! It's a great place for snorkeling where one can see fertile and healthy corals and large schools of fish.
Sweetie and I were specially intrigued at these blue-colored staghorn corals; we have seen staghorns before but not those with blue colors!
It's not a surprise that Malapascua draws sea lovers, foreign and local. After all, it is surrounded by some of the richest dive sites in the world.
Hard corals such as this provides fish and other marine animals a great place to hide. Many are covered with tiny crustaceans, worms, and plankton that fish eat. However, hard corals are also home to gnathids, tiny ectoparasites that latch on to fish when the latter hide to sleep.
The tentacles of this soft coral sway gently with the mild current. The ends of the tentacles seem to glitter like stars. Beautiful!
Langub Beach
Later, after an hour or so of admiring the Coral Garden, we headed to a quiet beach to have a simple, picnic-style lunch. We crammed together under a small overhang to shield ourselves from the harsh glare of the noon-time sun.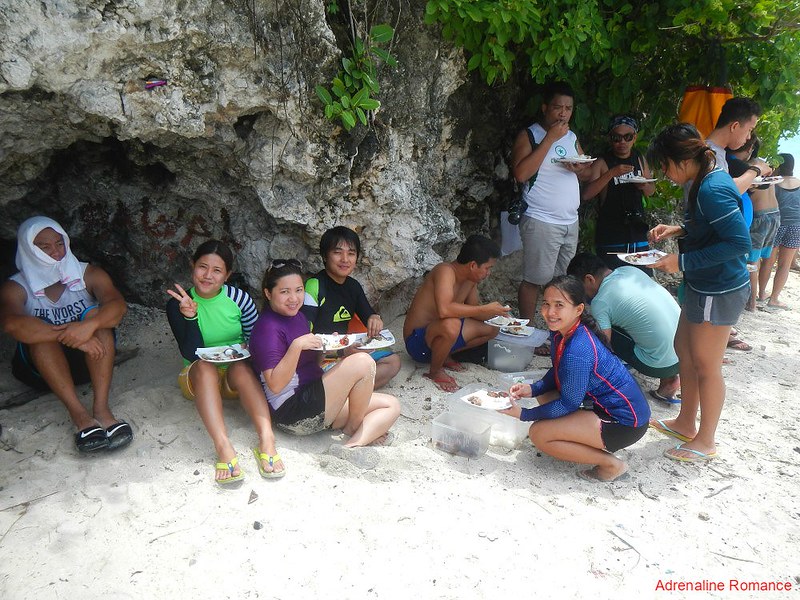 Simple pork barbecue, grilled hotdogs, and broiled fish won our tummies! Everyone should try a Filipino-style beach lunch with the fun that goes along with it.
The overhang where we hanged out for lunch is part of beautiful Langub Beach, named for a nearby langub or cave. Even if it is a public beach, it is relatively rarely visited because it is quite a distance away from Bounty Beach, the town center, and the dock. It's a perfect place for those who want some peace and quiet.
With such magnificent beauty all around us, it is quite difficult to imagine that this entire island was virtually flattened in 2013 due to Supertyphoon Haiyan (Yolanda). If you remember, we took part in a relief operation here three years ago, and the devastation was unbelievable.
Nature's healing process, along with Cebuanos' valiant efforts, restored the island to its former glory.
Because our boat has a scheduled trip back to the mainland to pick up some guests, we took a habal-habal ride from Langub Beach back to town. Hiking and going around in a habal-habal are great ways to see the interior of the island up-close.
Like many other small islands in the Visayan Sea, the inhabitants depend on fishing as a source of livelihood. Rice, corn, and other agricultural products are supplied by Cebu. Tourism came into the picture in the 1990s, and the newcomer industry developed rapidly.
Many locals are experts craftsmen. These wooden sculptures of thresher sharks are painstakingly carved and polished by hand. Make sure to get one as a cool souvenir and as a reminder of Cebuanos' creative artistry.
Barangay Logon
Malapascua is known for its stunning sunrises. In fact, Sweetie woke up early the next day to do her regular exercises in the beach during daybreak. Even if the morning was considerably cloudy, we still were filled with awe at the beauty of such a magical, everyday event.
After eating a quick breakfast, we explored the nearby resorts on foot. We have always been mystified as to what is the purpose of those colorful flags out there. Unfortunately, no one was there to answer our questions. Could it be that the mystery of the resort flags is unsolvable? Is it meant not to be answered by mankind?
A viewing deck at Amihan Restobar, a popular restaurant and hotel perched on top of a rock outcropping, gave us a nice view of the western shore. This is where most of the island's fishermen and local residents dock as it is close to the small but bustling town of Logon.
Obviously, the western shore offers a less picturesque view of the sea than in Bounty Beach.
Malapascua is not just all blue from the sky and sea. It is also filled with greens, yellows, reds, and pinks! Check out these colorful blossoms. Aren't they pretty?
Malapascua is internationally known for its amazing dive sites, particularly the expansive reefs and cleaning stations for thresher sharks and eagle rays. Thus, it is not surprising that many dive shops and outfitters have set up shop here. The competition among these service providers is quite immense.
Bounty Beach
Comfortable hammocks fastened under shady trees along the coastline provide the island's visitors a respite from walking under the tropical sun's heat.
Bounty Beach serves as the main hub of all recreational activities in Malapascua. This long stretch of white beach is filled with various restaurants, resorts, bars, dive shops, and souvenir stores. Either you want to party, meet cool people, enjoy great food and drinks, or simply relax in the sun, Bounty Beach is the place to go.
Having breakfast, lunch, dinner, or an intimate date here—with a wondrous seascape in front of you—would be simply perfect.
I decided to take a dip in the warm, inviting water fronting Bounty Beach. Sweetie and a few others didn't share my enthusiasm in swimming, so they simply relaxed under the shade of this native nipa beach umbrella.
Malapascua Sunset Cruise
Do you love parties, beer, and music? We know that it's definitely fun. But wouldn't it be better if you can do that in a boat while slowly cruising around a tropical paradise? Yes? Well, try the Malapascua Sunset Cruise, and have a party in the middle of the sea!
Lee, the friendly and jolly white dude who offers the service, invited us and a few of his guests to a cruise around Malapascua Island. He tells us the one inviolate rule of his service—have fun and lots of it!
The boat used for the cruise has an oversized, non-slip deck which doubles as a dance floor. Like all other traditional pumpboats, seats face each other to encourage passengers to interact with each other.
Of course, what's a party without ice-cold beer? Incomplete! Unfortunately, Sheila and I are among those very, very few people who can have fun without alcoholic beverages. Thus, we weren't able to use our drink stubs.
Good thing there's hot tea, which we helped ourselves to the point of non-stop peeing. Next time, Lee, please do provide ice-cold soda or fruit juice to poor non-drinkers like us. hehe!
While the others enjoyed their ice-cold San Mig light beers, we helped ourselves with some fresh fruit and chips.
While the other guys partied, some of us simply sat quietly to enjoy the ride and the idyllic scenery.
And some engaged in some serious, educational talk. Sweetie and Leylan discussed the geography of Malapascua.
But of course, we all had a lot of fun!
Two of our co-passengers who were Europeans braved the waves. They swam ashore and hiked up the Lapus Lapus cliff. After a lot of urging and cheering from us, one by one, they stepped into the abyss!
Unfortunately, the habagat clouds were too thick, and the gray, afternoon sky hid the spectacular Malapascua sunset. Thus, we headed back to shore and thanked Lee for a great time. A sunset cruise is truly an experience that you should try.
After lunch on the second day, we bade goodbye to Sir Jose and Malapascua Island. But we know it won't be long before we heed the constant echoing call of this beautiful paradise. Its treasures are abundant, both on its sandy ground, under its blue waves, and in the hearts of its residents.
Special Thanks
Once again, we would like to thank Sir Jose, Lee, and everyone who made sure our stay in Malapascua Island is enjoyable. Thank you to the amazing bloggers of the Cebu Bloggers Society who allowed us to tag along with them on this fantastic weekend adventure.
Malapascua Island is patiently waiting for us—and you, dear reader—to have a chance to mesmerize her visitors with her wonders. Hear her call, and have a memorable ber vacation.
Rates*
P 160 per person – non-aircon bus (Cebu North Bus Terminal to old Maya Port)
P 180 per person – aircon bus (Cebu North Bus Terminal to old Maya Port)
P 200 per person – aircon van (Cebu North Bus Terminal to old Maya Port)
P 100 per person – boat fare from old Maya port to Malapascua
* These are public transportation rates only. Prices for food, accommodation, and services vary in the island. Note that these rates may change without prior notice.
Important Information
1.  There are no ATMs in Malapascua. So make sure you bring enough cash. Some hotels, dive operators, and other establishments in Malapascua accept credit card payments, but it is better to bring cash. As a world-renowned dive resort, everyday items such as (e.g. carenderia food, drinks, supplies, etc.) and services offered in Malapascua can be quite expensive. Be sure to bring extra money.
2. Because there is no submarine cable from the mainland to Malapascua, power is provided by a small electrical plant/generator in the middle of the island. Thus, expect power to be sporadic. Many establishments have their own generators to compensate for power loss.
3. Phone signal for Smart, Globe, and Sun networks is good all around the island. Guesthouses, restaurants, bars, and other establishments also have free WiFi.
4. Malapascua Island is a small resort town. You can go around barangay Logon on foot. To reach the other side of the island, you may want to hire a habal-habal if you don't like the idea of walking 2 kilometers.
5. Peak season starts on September and lasts until the middle of May. Expect prices to hike up during these months. Off-season is on June to August.
6. Other activities around the island include stargazing, karaoke/videoke, and bayle (local outdoor discos) at night. You can also take part in their town fiesta on May 11 and 12 every year.
Tips
1. For accommodations, arrangements, guided tours, and other services, contact Mr. Jose Amistoso of Malapascua Budget Inn by using the contact details below:
Street Address: Tawigan Logon, Malapascua Island, Daan Bantayan, Cebu, Philippines 6013
Mobile Number: +63 977 8203 111
Email: malapascuabudgetinn@gmail.com
Website: Malapascua Budget Inn
Facebook Page: Malapascua Budget Inn
2. For the Malapascua Sunset Cruise, the rate is P 1,000 per person. This includes:
3-hour sunset cruise around Malapascua Island on a large, comfortable boat
6 drink stubs (alcoholic drinks only)
chips and fresh fruit
GoPro pictures and videos
swimming, cliff jumping, and party in the boat
Rate is subject to change without prior notice.
The cruise opens to guests every Saturday at 3:30 PM and ends at 6:30 PM. The sunset cruise requires a 24-hour notice.
For more details, get in touch with Hippocampus Beach Resort at 0947-955-7339 and look for Lee. You can also visit their Malapascua Sunset Cruise Facebook Page.
3. Pack light but bring the following:
water (at least 1 liters)
dry clothes
underwear
sandals or aqua shoes
umbrella, hat, or scarf
rain gear (in case of bad weather)
extra money for emergencies
medications (if any)
bathing suit, rash guard, bikini, or trunks
toiletries
towels
snacks
cell phone
camera (waterproof or GoPro cameras are recommended)
4. When snorkeling, take care not to touch the corals. Corals are very fragile.
5. Remember to Leave No Trace of your visit. Do not litter; place your garbage in a large bag to be taken back to the city for proper disposal. Do not take any rock, plant, sand, etc. that belongs to these paradises.