(Photo courtesy of Neil Cordova Jarina)
Sir Chad Cordova of Enthusiast of Cebu Outdoors (ECO) and Sir Ruel Olaso, our partner in climbing, sent us an invitation for a climb in Mt. Napoa, Baranggay Cogon, Naga, Cebu last August 25, 2012. Being the adrenalin junkies that we are, Sweetie and I readily agreed to the invitation. Except for a really bad traffic situation that left us with no choice but to hail a cab to take us from the Cebu South Bus terminal to Gaisano Minglanilla (and spending P250 for the fare. Huhuhu!), the climb turned out pretty well.

Mt. Naopa is less than 1,000 MASL and is ideal for a fun trek or for introducing new people to the sport of mountaineering.
We met with the rest of the climbers at Gaisano Minglanilla. We were some of the last ones to arrive; we arrived an hour later than the agreed meeting time due to heavy traffic. The rest spent their time shopping for essentials.
Sweetie made friends with a cute little girl and her mom Marjorie. Yes, the little lady is going up the mountain with her mom and dad.
After everyone gathered up, we rode a tricycle from Gaisano to Eskina Tungkop, a junction at Guindaruhan where the road leads to Baranggay Cogon. Here we found other habal-habal drivers to take the group to the jump-off point. Here's sweetie with our friendly driver.
On our way to Baranggay Cogon Chapel. The first three-quarter of the ride involves a comfortable cruise through concrete roads.
And the last quarter constitutes a rough ride on pebbly, slippery, dusty country roads.
That's Mt. Naopa! What a majestic peak.
After a bone-jarring ride, we finally reached the jump-off point in Baranggay Cogon.

(Photo courtesy of Ruel Olaso)
Waiting for the others to arrive. Behind that unfinished chapel is a trail that leads directly to Mt. Naopa's campsite.
The family that stays together, climbs together. That's Sir Randell Savior and his family. I admire families like these. If you want your kids to love and engage in activities that do not involve video games, computers, the Internet, malls, expensive toys, and everything that amounts to lethargy and costly, material desires, let them climb mountains. Let them enjoy the splendor and challenges of nature at an early age.
It was dark when we started the trek to Mt. Naopa.
The first part of the trail is a farm trail that cuts through some light woods. We met this fellow hauling his goods from up the mountain.
After around 20 minutes into the jungle, we arrived at a rocky clearing. Check out that little girl. A world-class mountaineer in the making!
First rest stop where mountaineers can rest and take a drink.

(Photo courtesy of Ruel Olaso)
Moving on and up. From here, the trail consists of loose rock.
We stopped by this house for our second and last stop. This is also where we negotiated for someone to haul a large quantity of water to the campsite. Also, even though it was nighttime, we were drenched in sweat. Mt. Naopa's microclimate is quite humid and warm as you ascend to the top, expected due to the relatively low elevation.
A quarter of an hour of walking through grassland, we finally arrived at the campsite of Mt. Naopa. Time check, 8:00 p.m. Everyone began setting up their homes in the sky.
Small section of our campsite
That's our trusty Luxe Habitat tent. We had to open both the entrances of the tent because we found the temperature warmer than in most of the mountains we climbed. However, the air gets pretty cool and comfortable after a while.
No matter how easy any climb is, you'll always get hungry when you arrive at the campsite. It's time to whip up the burner, the cookset, and some food. Sir Randell reheated tasty lechon baboy for his family.
Dinner time!
Sweetie and I felt a bit lazy. So we settled on a delicious Dimsum meal (steamed rice and quail egg siomai) we bought earlier at Harbor City.
After dinner, it was time for socials where everyone dunked some booze, shared stories, and had fun. Check out that lamp. That's a powerful floodlight covered with the plastic case of a camping stove. Ingenious!
Macho papas of Mt. Naopa. Hehe!
Sweetie and I wanted to watch the famed Naopa sunrise so we turned in earlier than the others. We woke up at 4 a.m. (we were the first to wake up, actually) and climbed up a nice hill where we can see the sunrise in all its glory.
When we woke up, the sky was illuminated by the city lights far below and a faint pink glow, the telltale sign of dawn. But around a quarter of an hour later, Mother Sun began to yawn and open her eyes.
Beautiful glow. That's Mother Nature's smile. Sunrises in the mountains are always spectacular light shows.
Showering the landscape with a downpour of golden light, Mother Sun awakes to welcome a brand-new day full of hope.
If God exists, I think this must be Him.
Practicing what should be done . . . a few years from now. Hehe!
Mt. Naopa's camp area. The camp area is perfect, a gently sloping hilly ridge that overlooks both eastern and western sides of Cebu.
Candy colored tents. People started to wake up . . . some with a slight hangover.
Time to head back to camp to prepare breakfast.

(Photo courtesy of Neil Cordova Jarina)
That's the viewing hill just in front of the campsite
Sweetie prepared our breakfast: rice, scrambled eggs, and skinless chorizo.
Helping out: the divine duty of a good boyfriend. Hehe!
On a clear day, the mighty Mt. Kanlaon, the highest mountain in the Visayas, can be seen.
After breakfast, it was time to break camp.
Where's our tent? We packed it ahead of time, of course.
After breaking camp and ensuring that we didn't leave any trash behind, we went down to a nearby house where the owner gladly brought us tree-fresh young coconuts. We are rock climbers but we'll be damned if we have to climb a hundred-foot tree that sways in the wind.
Opening the coconuts takes a lot of skill lest you'll cut your hand. Ouch!
Here ya go!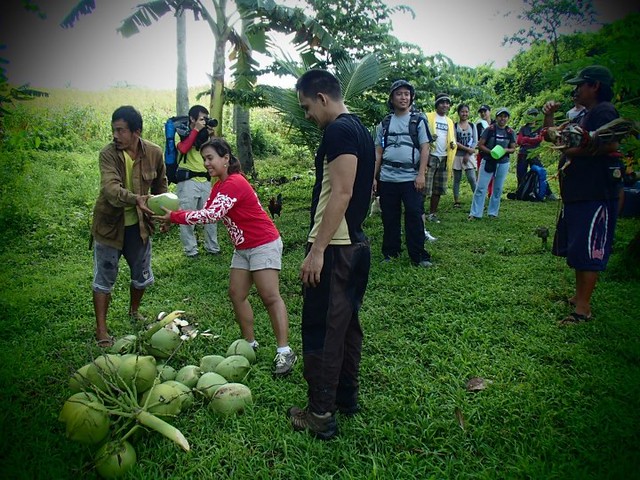 Fresh coconut water is Mother Nature's very own sports drink. It's packed with more ions and mineral salts than Gatorade. And it's best consumed when you are with your sweetie! Bottoms up!

(Photo courtesy of Ruel Olaso)
After everyone had their fill of fresh coconut, we were ready to go down.
Along the way, we saw a quarry. We do hope they have a permit for quarrying.
The quarrying industry is really necessary to provide raw materials that contemporary society needs to function effectively. However, it can be utterly devastating to Mother Nature if left unchecked.
Hot, sweaty, and happy!
Who says Cebu is not green? That's a spectacular verdant scenery out there.
Walking in a straight line . . . obviously.
Very beautiful greens.
This perfect line reminded us of our days in high school where we had to march in a straight line to the classroom. Now, we have a new classroom, and that is the outdoors.
The last hurdle is this slippery, rocky slope. To get down, we needed to dance Oppa Ganggam Style added with a bit of yoga.

(Photo courtesy of Neil Cordova Jarina)
After getting back to the jump-off point, everyone congratulated everyone for a very enjoyable climb.

(Photo courtesy of Ruel Olaso)
We were in the company of fun-loving, very lively people, which makes every climb worthwhile.  Thank you so much, sirs and ma'ams.  Climb on!

(Photo courtesy of Neil Cordova Jarina)
Suggested Itinerary
Day 1
2:00 PM – assembly at Gaisano Minglanilla
3:00 PM – ETD Gaisano Minglanilla, ride tricycle to Eskina Tungkop
3:15 PM – ETA habal-habal station at Eskina Tungkop, junction at Guindaruhan
3:20 PM – habal-habal ride to Baranggay Cogon
4:00 PM – arrival at Baranggay Cogon chapel, jump-off point
4:15 PM – start trek
4:45 PM – arrival at homestead, rest, ask for water to be hauled to the campsite
5:00 PM – resume trek to summit
5:30 PM – arrival at Mt. Naopa campsite, climb Naopa hill, view sunset
6:30 PM – back to camp, prepare dinner
7:30 PM – dinner
8:00 PM – socials
11:00 PM – lights off
Day 2
5:00 AM – wake up, ascend Naopa hill, view sunrise
6:30 AM – back to camp, prepare breakfast
7:00 AM – breakfast
7:30 AM – break camp
8:00 AM – arrive at Emy's homestead for fresh coconut
8:30 AM – start trek back to jump-off point
9:30 AM – arrival at jump-off point, take ride back to Eskina Tungkop
10:00 AM – arrival at Eskina Tungkop, wait for Cebu bound bus for going home
Tips
1. For guideship services, contact Sir Chad Cordova at (0946)313-6634.
2. Follow the above itinerary if you want to see the sunset. We weren't able to witness the sunset because we departed really late.
3. The trek to Mt. Naopa is quite easy, so you don't need to bring your full gear. However, do wear trekking shoes as the rocky part of the trail is unforgiving to your feet.
4. Due to Mt. Naopa's relatively low elevation, the mountain's climate is hot and humid. Wear light, thin clothes or tank top on your way up the mountain. The temperature drops down as you reach the campsite. Bring and drink plenty of water.
5. At the homestead, you can ask Kuya to haul up water to the campsite for a negotiated fee. On your way back the next day, you can buy freshly baked puto from them.
6. Be careful as you enter the campsite. It's private property, and there's a collapsed barbed wire fence buried under the grass along the viewing hill.
7. Since you will arrive at the Cebu South Highway mid-morning, you still have the option to do a side trip at one of Naga's or Minglanilla's beaches.