Breathe. Relax. Invigorate. These three words remind us that living life is more than just studying, working, and bearing the weight of our personal world on our shoulders. Indeed, we ensure that we revitalize ourselves after a hard week's work and study. We do this through traveling and engaging in outdoor activities. However, little did we know that this year's summer, one of our best relaxation moments also turned out to be a surprise accomplishment of one of our fondest wishes.
You see, after reading lots of luxury travel magazines, Sheila and I dreamed of sailing in a luxury yacht. It would be the epitome of romance, pleasure, and relaxation. So when we received an email from Purple Chalk Philippines inviting us for an afternoon yacht cruise, we readily said yes. The cruise was sponsored by International Pharmaceuticals Inc. (IPI), the Philippines' leading manufacturer and distributor of various pharmaceutical and consumer products. At long last, we will be able to tick off a dream activity that has been sitting in our bucket list for far too long.
It was a searing afternoon so we raced against the sun to have some shade. Good thing that Cebu Yacht Club's in-house restaurant Vue is just a 10-minute walk from the ML Quezon highway. And it got better still. While fellow bloggers, influencers, and other guests were waiting for the program to start, the staff of Purple Chalk provided us with appetizers and drinks. We were also treated to an energetic dance performance by these sexy ladies. Whew, the afternoon just got hotter.
Shortly before 4 PM, the marketing management of IPI started the short program, introduced themselves, and told us more about their brand-new product, Efficascent Relaxing Oil.
The program was deliberately short so everyone could spend the rest of the afternoon relaxing. Yes, IPI and Purple Chalk diligently worked on this event so that we (and they) could relax.
We made our way to the mooring walkways of the Cebu Yacht Club. It was our first time to see these fine yachts up close. If they look superb while docked, then they must be akin to beautiful poetry when they sail into the sea. Many of these yachts are owned by foreigners and rich businessmen.
Oh no, is that our yacht? No, not really. It's just an RIB (rigid-hulled inflatable boat) to shuttle us to our yacht, which is anchored off the marina.
Fellow Cebuana bloggers (from left to right) Chanel, Pam, Gay, and Janine were as excited as Sweetie.
We were awed to silence as we stared at the Galileo G, designed by Italian yacht builder Perini Navi. At 181 feet in feet in length, it is considered to be a super-yacht. The accommodations and leisure facilities that this yacht carries must be out of this world for us mere mortals. Note the large radar dome on top of the yacht.
In less than 5 minutes, we were beside the immaculate P/Y Jokai 1—our yacht. We were squealing with excitement. Excuse us for our giddiness, but you would definitely understand that. It's not every day that you get to ride a yacht!
Because one of my hobbies is building miniatures of boats and ships, I know a bit about marine vessels. As we approached the yacht's stern, I could see that the yacht is built as a catamaran. The twin-hull design makes the vessel stable even in rough waters.
Two decks are built on the hull. Without sleeping cabins and equipped with a simple galley, the Jokai 1 is considered to be a weekender yacht.
We boarded the yacht through the stern ramp. The moment we touched our feet on the rubberized floor, we knew that one of our dreams have come true! Finally, we were on board a lovely yacht!
We didn't waste any time exploring the vessel. The first deck bridges the two hulls. The first deck houses a bar, a galley, a restroom, and the bridge. A stairway in the middle of the vessel leads to the roof deck.
We were allowed to have a rare glimpse of the bridge where all the real action takes place. This is where the captain steers the Jokai 1. Don't let its small size fool you. This bridge is filled with all manner of high-tech equipment such as power switchboards, radar, GPS, communication panels, and more to keep the passengers' journey safe and pleasant.
For overnight voyages, two simple cots with space for personal belongings are provided on both sides of the bridge.
From outside, the bridge looks more like an ultra-modern cockpit of an aircraft than a yacht. Wow!
On top of the stairs is the roof deck where passengers can have an uninterrupted view of the seascape. Stainless-steel railings are installed for safety, and there are benches and cocktail tables all around for comfort.
When everyone was aboard, the Jokai 1's engines fired, reverberating a soft, pleasant mutter throughout the vessel. Our route was to sail northwards towards Liloan then turn back south towards Pier 3. Then we turn north again to head home to the Cebu Yacht Club.
We sailed at a slow speed of around 3 knots. With the fresh sea breeze blowing on our faces and the beautiful urban landscapes at either side of us, you can bet your last peso that we were utterly relaxed!
We love the Philippines! It's such a dazzling country despite the negative (and rather unfair) portrayal caused by the media and some insensitive people.
And we have just found another way to explore it—through sailing! Now if only we have enough money to rent a yacht and go for a month-long cruise around the Philippines…
Seriously though, this may be cliche; but to all Filipinos, don't be a stranger to our own country. We have so many natural and man-made wonders here. Our history and culture are rich beyond your wildest dreams. Think about it; many foreigners decided to leave their homelands because they have found their true home here!
Silhouettes of large ships stand against the background of the setting sun as it says goodbye to another beautiful day. According to the recent news, the ships are there to excavate a deeper trench in the Mactan Channel. The excavation is part of a mega-project to construct a new, massive world-class international container port in the north-central municipality of Liloan.
The present Cebu International Port is already congested, and the water is too shallow for giant container ships to dock through. But with the new port, these ships can dock easily. That means more economic development for Cebu.
Sunsets are prized spectacles. For us, this is the time that Mother Nature takes her brush and pallet and paints the sky with magnificent pastels of light. It is through these wonders that Mother Nature inspires artists, painters, musicians, and writers to unshackle their creativity and imagination.
No matter how busy you are, you should find time to de-stress and relax. You need it. You deserve it. No overtime, weekend meeting, or frenzied business is worth a moment of peace, stillness, and time for yourself. It's ironic, but the better you relax, the more productive, positive, and energetic you will become.
This was perhaps one of the most fiery and majestic sunsets we've ever seen. Waves of fire seem to roll out of the mountains as the sun dips in the horizon.
Everyone's tummies grumbled as we turned south. Fortunately, IPI prepared a delicious seafood buffet dinner for us that included freshly boiled crabs, chewy calamares, seafood pasta, and pork barbecue. Mmmmmm! And just imagine this: we were dining under the pale moonlight with the sparkle of city lights all around us in a yacht! How cool and relaxing is that!
Pretty usherettes kept the guests entertained. These ladies are stunningly beautiful and sexy.
The Marcelo Fernan bridge is one of Cebu's most iconic infrastructure projects. It has one of the widest and longest bridge spans in the country, but it's no match for the exponentially increasing number of vehicles in the province. Virtually every day, this four-lane bridge gets congested with heavy traffic.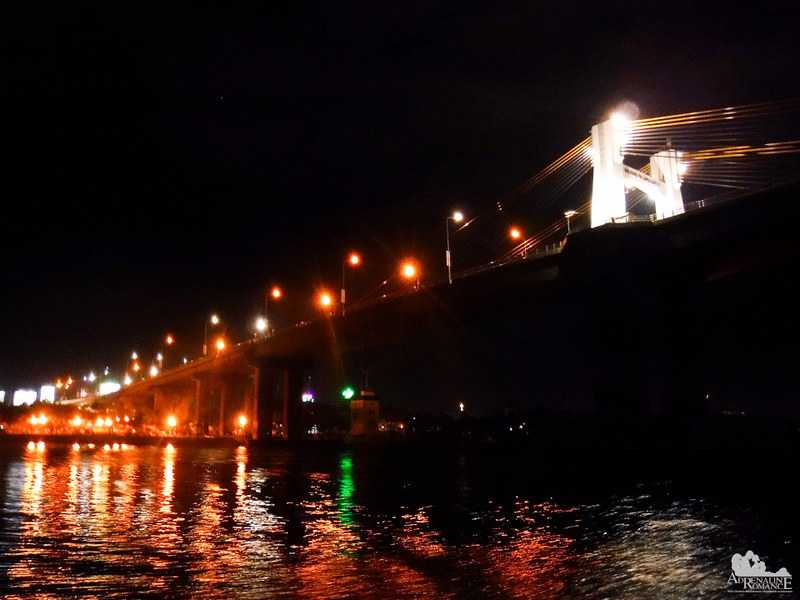 IPI dancers performed a cool light show on the foredeck of Jokai 1 as we passed under the first Mactan-Mandaue Bridge.
Upon reaching the shore, all guests were given gift packs that contain small roll-on bottles of Efficascent Relaxing Oil. Since then, we have used ours in all our outdoor activities—rock climbing, scuba diving, traveling, trekking, and more. In fact, we even bring our bottles with us during work! The cooling effect of the fragrant, mentholated oil is truly relaxing and revitalizing.
Special Thanks
We would like to thank IPI VP Marketing Mr. Stanley Uang (the fellow wearing a blue-green shirt and sunglasses) and the rest of IPI's sales and marketing team.
Thank you too to Ms. Mae Anne Yee of Purple Chalk Philippines for inviting us to this rare opportunity.
You guys did a truly awesome job of making a whole bunch of stressed people relax. For Sheila and I, you are special as you made one of our dream adventures come true.
Contact Details
Get in touch with the Seahorse Houseboats for yacht charters, sunset cruises, boat rentals, and more:
Mailing Address: Lapu Lapu Street, Lapu-Lapu City
Cell phone: 0905-283-1009
Email: seahorse_houseboats@yahoo.com
Facebook Page: Seahorse Houseboats
International Pharmaceuticals Inc.
Purple Chalk Philippines
Mailing Address: Unit 1-A, Asia 1 Bdg. ML Quezon St., 719 Cabancalan, Mandaue City
Phone Number: (6332) 517-6173
Cellphone Number: 0917-647-9520
Email: hello@purplechalk.net
Website:
Facebook Page: Purple Chalk Philippines
Save
Save
Save
Save