The quaint town of Moalboal, along with the other municipalities of southern Cebu, is filled with dazzling adventures. For the hearty adventurer, it's hard to resist the call of magnificent dive sites, white-sand beaches, lovely waterfalls, green mountains, and rural communities. But physical limitations and finite hours make it virtually impossible to visit them all in one day. You need to stay here for a while in order to enjoy all these adventures.
Come to Cabana Beach Resort right in middle of the resort strip in Panagsama, Moalboal. Managed by Italian chef Alfredo Malasomma and his lovely wife Mary Sol, the resort provides a comfortable staging point for couples, families, divers, backpackers, and adventurers who want to enjoy southern Cebu's breathtaking delights.
We arrived early in the morning at the Cabana Beach Club Resort. And so began an amazing weekend of water adventures.
We entered through Cucina Italiana, the resort's native, open-air restaurant. Jutting out from a small but sturdy embankment, the place lets diners enjoy an uninterrupted view of Tañon Strait and Negros island. Check out the polished and sturdy wooden tables and chairs; local Cebuano craftsmen made them entirely, using nothing but basic tools and their own skill and creativity.
Cabana Beach Club Resort's iconic attraction is their gazebo which extends to the very end of a deep kantil (underwater cliff). The open-air gazebo can be accessed via a short footbridge that originates from the shore. Many guests, swimmers, and divers consider the gazebo as their favorite haunt.
Stairs leading down towards the gazebo's foundation allows people to easily access the water so they could dive or snorkel.
We just couldn't help it. Is this Instagrammable? Hehehe! The gazebo and the bridge are ideal for pre-nuptial, bride-and-groom, barkada, or solo photo shoots. So get your cameras, smartphones, and drones and shoot away!
From the gazebo, we could see the entirety of Cucina Italiana. Don't just just want to jump in that inviting aquamarine water? The property also has a building that houses some studio units, a dive outfitter, and a roof deck.
The gazebo also acts as a viewing deck. From here, people can witness Moalboal's famous fiery sunset (which sadly, we weren't able to see due to cloudy weather). Looking down, one can clearly see the edge of the kantil outlined by beautiful corals.
The floating buoys prevent pump boats from entering the area. Most importantly, they allow boatmen to tie off their boats without them having to throw anchors. Delicate corals have been destroyed, and many divers have been injured from boatmen who recklessly throw their anchors into the sea.
Before long, it was time for breakfast. Although we had a light meal at McDonalds before we left Cebu City for Moalboal, our tummies grumbled when we saw delicious sausages, corned beef, eggs, and fried rice. A simple but perfect breakfast for Sweetie and me.
After an energizing morning meal, Mary Sol took us for a tour around the resort. Like many other resorts, the best rooms are located near the shore, which offers a fantastic view of the seascape. Not visible in the photo is a small stretch of fine, white sand that serves as the resort's beach area. How cool!
Beach lounges tempt guests to lie down on them so they could enjoy their favorite drinks, watch over their families as they frolic in the water, read their books, and more. Just looking at them made us feel sleepy.
Each room has its own veranda where guests and their friends can hang out, chat, and enjoy each other's company while enjoying the picturesque sea view.
Keeping up with a traditional Filipino theme, Cabana's resorts feature polished bamboo, wood, and nipa structures. A hint of Japanese influence in the form of translucent sliding doors harmonizes the design. The rooms face either the sea or the garden.
Speaking of garden, check out this lovely Eden, which forms the centerpiece of the property. Lush indigenous tropical plants are used for ease of maintenance and surety of growth. Short pathways encourage guests to walk around the garden, and a single coffee table is ideal for quiet afternoon tea dates.
Feeling uncomfortably hot? Just jump into Cabana's swimming pool, which has both shallow and deep ends. A small children's pool beside the main pool doubles up as a jacuzzi. It's exceptionally soothing when you bask in the warm water, heated naturally by the sun.
Guests who are staying in the neighboring Marina Village and Sol E Mare can use the pool for free. Those who are staying in Marina Lodge need to pay P 200 per person for using the pool except for guests who are booked in their private or family rooms.
One of the undeniably best things that makes a stay or a visit in Cabana Beach Club Resort worthwhile is the huge sardine run, which makes Panagsama a sought-after place for free divers, scuba divers, and snorkelers. Indeed, the kantil just beyond the gazebo has the highest and thickest concentration of sardines in the entire Moalboal coastline.
Aside from the massive sardine run, divers and snorkelers can also enjoy the rich variety of corals, fish, and other marine creatures that inhabit the kantil. Often, curious sea turtles come here to check out the equally curious humans floating on the water.
The name of in-resort restaurant, Cucina Italiana, obviously implies that they specialize in Italian cuisine. However, they also serve delicious, traditional Filipino favorites such as grilled baby back ribs, sinigang (savory fish, pork, or chicken soup soured with a bit of tamarind), chop suey, and calamares (squid sliced into rings, dipped in batter, and deep fried). Absolutely masarap!
Marina Village
Cabana Beach Club Resort is not the only resort in the company. Indeed, Alfredo and Mary Sol acquired properties in Panagsama and built assets that would cater to other preferences and markets. Thus, following a short afternoon break, we toured the resorts that comprise their network. One of them, the Marina Village, is located at the very end of Panagsama's lively resort strip.
There are guests such as honeymooners and old folks who want peace, quiet, and a bit of isolation; and Marina Village offers those. That's because the gardened complex sits away from the busy resort strip. Thus, guests don't have to be bombarded with the noise of disco music, revving motorcycle engines, and loud laughter and conversations from passers-by.
Rooms are built in town-house like buildings that are surrounded by verdant plants. It's quite amazing to think that guests can enjoy this quiet oasis while just behind the complex, less than a stone's throw away, is a busy avenue.
Like Cabana Beach Club Resort, each room in Marina Village features a nice veranda where guests can hang out. Note the beautifully polished bamboo couch and chair as well as the ingenious center table.
Interiors are simple but cozy while various artworks decorate the walls. Common to all the resorts in the network, each standard room features a private toilet and bath, a small refrigerator, a ceiling fan, a wardrobe, a safety deposit box, and a sitting area. You can also choose rooms with king-sized or queen-sized beds. Extra mattresses are available for a minimum fee.
WiFi as well as coffee and tea are available free of charge.
Even though Marina Village is not located in the immediate vicinity of the beach, it still offers a lot of tranquility thanks to the resort's lush greenery. Walking around the resort feels very much like walking in a fairy-tale castle's secret garden.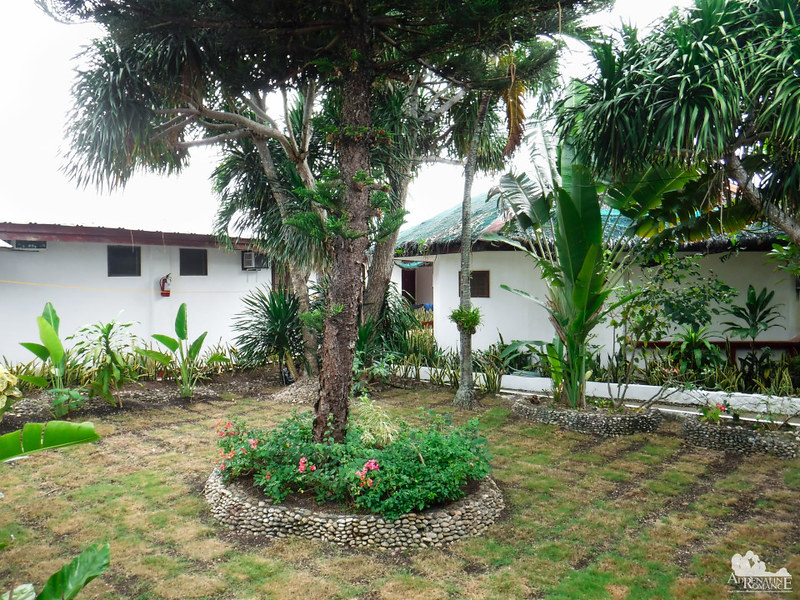 Sole E' Mare
Across Cabana Beach Club Resort is another of Alfredo And Mary's properties, the vibrant Sole E' Mare. Designed to feel like a small village, it has large and comfortable rooms that are perfect for families and friends. This is where we were booked for the duration of our weekend stay.
Check out our spacious room. Looks very comfortable, isn't it? Our room comes equipped with a small refrigerator, individual bedside tables, and a private bath and toilet.
While each room has its own terrace, Sole E' Mare also erected a bamboo gazebo near the gate. The design and materials are reminiscent of typical beach cottages found in the Philippines. Some of our companions had a short drinking spree here in the evening, sharing stories and simply having a great time.
Each room has a clothesline where guests can hang wet towels, swim suits, and wet suits. Quite a simple but convenient provision really, especially for water babies.
The expansive facade of Sole E' Mare provides a roomy, breezy feeling. Also, just ride beside the entrance is a brightly lit cafe that serves European wines.
Marina Lodge
Travelers who are tight on the budget are not left out. They can book a stay in the Marina Lodge, just right beside Sole E' Mare. Guests can enjoy free WiFi, coffee, and beach entrance at the Cabana Beach Club Resort. With accommodation rates starting at P 300 per person, it is one of the most affordable lodging spaces in Panagsama.
The main hallway stretches all the way to the other side of the building, allowing guests easy access to their respective rooms. Typical with budget accommodations, the toilet and bath is shared.
A small common lounge becomes a cute nook that encourages guests to interact with each other over a cup of coffee. Coffee cups are available for use, but please don't forget to wash them after use. Each guest also receives a small drawer where they can place personal stuff such as canned goods, noodles, snacks, and groceries.
The cheapest room, at P 300 per person, is rudimentary but comfortable. The room consists of nothing more than two beds, a small platform that serves as a shared night table, and a shared wardrobe. Don't worry though; there's ample space underneath your bed where you can stow your luggage.
Because a single ceiling fan provides the cooling, you might find sleeping here during summer nights a bit warm. Well, that can be easily remedied by a cold bath before turning in.
A few hours later, back in Cabana's gazebo, we ate a sumptuous dinner that really tickled our taste buds. It was pretty cool enjoying delicious dishes while listening to the sound of gentle waves licking the shore.
Hey, we were dining in an Italian restaurant managed by an Italian chef, right? What could be more fitting than enjoying authentic Italian dishes! We gobbled up various pasta dishes, schnitzels, pizza, and more. Molto delizioso!
To cap off a fine Saturday, Mary Sol served us authentic Italian red wine. Do you know that a glass of red wine can lower your cholesterol, reduce your chances of acquiring heart diseases, help fight colds, and more?
You can see in our smiles that these bloggers and vloggers had an awesome time. Thank you so much, Cabana Beach Club Resort, for the warm and comfortable stay. We would also like to acknowledge our good friend Jose Amistoso Jr. for referring this group of skilled and dedicated online influencers to Alfredo and Mary Sol.
Moalboal and the rest of southern Cebu is a backpacker's and adventurer's paradise that promises an exciting and memorable experience. Make Cabana Beach Club Resort or any of its partner resorts your base camp, staging point, and R&R station for your trips and adventures down south.
Getting to Panagsama Beach
At the Cebu South Bus Terminal, ride a bus that goes to Moalboal. Alight at the Moalboal town proper and take a tricycle to Panagsama Beach
P 110 per person – one way, non-aircon bus from CSBT to Moalboal (P130 for aircon bus). The same rate applies for the return trip.
P 25 per person – one way, tricycle fare from Moalboal to Panagsama Beach. The same rate applies for the return trip.
Contact Details
For bookings, reservations, room rates, and other inquiries, get in touch with Cabana Beach Club Resort using the following contact details. Since Marina Village, Sole E' Mare, and Marina Lodge belong to the same company, you can inquire and book your stay on these resorts using the same contact details:
Mailing Address: Cabana Beach Club Resort, Barangay Basdiot, Panagsama, Moalboal, Cebu, Philippines 6032
Website: Cabana Beach Club Resort
Telephone/Fax: (6332) 474-3024 / 474-3011
Mobile: 0999-494-7261
Email: info@cabanacebu.com
Contact Persons: Fatima or Claire
They accept JCB and Visa cards.
Other Services
Transfers
Van Rental
Island hopping and coastline cruises
Scuba diving adventures and courses
Snorkel equipment rental
Inland activities
Common Amenities for Cabana Beach Club Resort, Marina Village, and Sole E' Mare
Fully air-conditioned rooms with ceiling fan
Hot and cold shower and mini bar
Private veranda
In-room safety deposit box (for Cabana Beach Club Resort)
Front office safety deposit box (for Marina Village and Sole E' Mare)
WiFi Cable TV sets (for Cabana Beach Club Resort)
Cable TV (for Marina Village and Sole E' Mare)
Free WiFi
Free coffee and tea
standby generator in case of power outage
Swimming pool use
Complimentary breakfast
Marina Lodge Amenities
Free wifi internet
Free coffee and tea
Ceiling fan for each room
Safety deposit box each small room
Shared toilet and bath
Free entrance fee to Marina Beach
Swimming pool use for Php 200.00 per person per day (except private and family rooms)
House Rules
No smoking, gambling, and drinking inside the room
Observe silence. Respect other guests.
Washing laundry is not allowed (please ask their housekeeping for assistance)
Cooking inside is the room not allowed (please visit their restaurant for budget meals )
A fee of P 400 will be charged for lost room keys.
Any damage or loss of property and equipment due to improper use or carelessness will be charged to guest account